As an Amazon Associate, we may receive a small commission from qualifying purchases but at no extra cost to you. Learn more.
It's Fido's birthday and your mind is racing thinking of how to make the day special.
Over the years, you have explored different things including going to the dog park to have the pet play with other canines and run around, throwing a birthday party, playing dress up, buying plenty of treats, and cozying up at home with the dog.
Now, you want some great outdoorsy fun activities for him. You are hoping to take him to a ball pit to jump around and burn off some energy.
No doubt, a doggy ball pit is beneficial for your dog.
But you wouldn't be a good parent if you didn't stop to wonder if dogs like actually it or not.
There's no point in engaging your four-legged buddy in an activity that he cares little about.
While canines are playful and enjoy being active, some playtime ideas just aren't meant for them.
So, do dogs like ball pits?
Let's investigate…
Why A Doggy Ball Pit?
Dog ball pits aren't only made for kids (although they originally were).
Dogs also love them.
Like kids, doggies get physical, mental, and emotional stimulation from ball pools for dogs.
As they jump in, throw their weights around, and jump out, they build their motor skills in the process. These encompass both fine motor skills as well as gross motor skills.
The activity also teaches them to maintain balance, interact with the environment, work on their reflexes, stimulate their brains, and participate in shared playtime among other things.
Plus, ball pits offer tons of fun for dogs. As they get all the other benefits, they get to enjoy themselves immensely.
Do Dogs Like Ball Pits?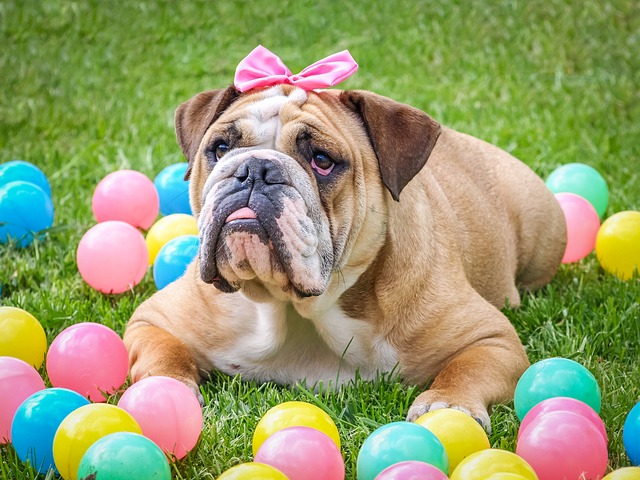 Anyone who keeps up with the trends in dog entertainment knows that dogs immensely love playing in ball pits.
Youtube and social media platforms are full of videos depicting dogs having some ball pit fun.
Check this Youtube compilation, for instance. The channel called 'Louie the Beagle" presents several dogs having hours of fun in ball pit balls for dogs.
It starts off by showing three beagles actively enjoying some water fun in a small dog pool.
They then play in the yard and jump into a ball pit along with two other beagles before running up and down some slides.
The canines are clearly in for some serious fun in the pit as they jump in, run around inside, jump out, and run around the yard further.
The second YouTube video which has garnered 13 million views also shows a Golden retriever puppy deeply engaged in a single-play time at a doggy ball pit full of colored balls.
He buries his head in the pit causing some of the balls to spill over to the floor.
After playing with some of the spilled-over balls, he jumps back in and burrows his small buddy in the sea of beautiful colored balls.
There's no doubt the sweet 9-week-old puppy is having mad fun in the pit.
These are just a few examples showing dogs enjoying themselves in a dog pit.
Instagram, Tiktok, and Facebook are filled with endless videos of the same nature.
Why Do Dogs Like Ball Pits?
There are plenty of reasons why dogs love ball pits. Let's go over them.
I. Ball pits encourage movement
Dogs are all about motion. They enjoy moving fast, running, jogging, jumping, you name it.
Heck, if they could scale walls, they could.
A pit filled with plastic balls inspires movement. It makes your dog want to jump in and out, toss balls around and chase after them, jump over other dogs, hide inside the balls, and repeat everything many times over.
II. Dogs Get A Chance To Play With Other Dogs
Cooperative play is a big deal in the canine kingdom. Any opportunity for a dog to engage another is always welcome. Now introduce hundreds of balls between the dogs and make play even more fun for your pet.
III. Playing With Lots Of Balls
Dogs love balls for many reasons. For one, they are bouncy making them great for tossing, chasing after, and just moving them around with ease.
Additionally, plastic balls are hard but still chewable.
Plus, they come in different colors that catch the attention of any dog.
Now imagine putting together hundreds of differently-colored balls in an enclosure! Irresistible to any dog.
IV. Ball Pits Are Open-Ended
There are a lot of things a dog can do when playing with a pit full of balls.
He can hide under the balls, jump out and chase after a few balls, or go back in and lie over the balls, the options are endless.
These keep a dog active throughout. Boredom is almost impossible in ball pits for dogs.
Closing Thoughts
Thinking of treating your doggie to a fun outdoorsy activity?
A ball pit is an excellent idea.
Your pet is bound to have hours of fun while perfecting his motor skills and building his social skills.
Whether it is his birthday, Gotcha Day, or a random family fun weekend, this is one activity set to make your pet happy.
Last Updated on February 2, 2023 by
Nicole Ratliff is positive reinforcement dog training expert based in Oswego, New York. A CATCH Canine Trainer's Academy alumni, Nicole has extensive practical dog reinforcement training experience and has worked with hundreds of private clients and dog shelter organizations. She is also an outstanding dog behavior author, having written for several online publications. Her goal is to educate pet lovers about the significance of living in harmony with their canine companions in a positive way.