As an Amazon Associate, we may receive a small commission from qualifying purchases but at no extra cost to you. Learn more.
Breakups are emotionally draining. The regrets, heartbreak, and perhaps loss of money can be overwhelming to deal with.
When pet custody battles are thrown in the mix, things get even more complicated.
Dogs don't pick sides during divorces and separations. They remain loyal to both parties.
As a result, the issue of who goes with the dog often arises. Everyone wishes to walk away with the pup—even if they didn't adopt or buy it themselves.
Legally, dogs are viewed as properties such as fridges, beds, and glasses.
When the relationship ends, whoever bought the item gets to walk away with it.
But sometimes, a party takes the pooch by force in a breakup even if it doesn't belong to them. As the victim, how do you get the dog back?
Talk It Out
Mediation is the last thing on your mind when you are frustrated and angry at your ex for taking your sweet pooch.
For one, you are going through heartbreak. The thought of facing them to talk about your dog doesn't sound good to you.
However, if you can put your differences aside for some time, you may just have a solution.
Before you rush to the courts to report your case, try to talk things out with your ex.
There are two ways of doing this. First, pick up the phone and contact the ex. You may also e-mail or fax them.
Be careful not to show up on their property as things can turn ugly for you.
If they pick up the phone, express your interest to negotiate the custody of your dog.
Perhaps they are willing to let the dog go if you offer cash or something else in return.
If they agree to meet you, do it in an open place for your safety.
Whatever you do, stay objective and do not insult or assault your ex.
If you reach an agreement, write it down and sign it in the presence of a witness or two.
Secondly, you can enlist the help of a professional mediator.
Chances are that your ex will want nothing to do with you. However, when a third neutral party joins in, they may be willing to have a meet.
Most cities in the United States have community mediation centers. You can search for one and contact them.
If you cannot find it, get an Animal Law attorney who can recommend one. This costs a few hundred bucks so be prepared for this.
Some people accept this route better as it is more private than a courtroom.
In case of any breakthrough, put it in writing as well.
Go To Court
When talking doesn't work (which is often the case), your next cause of action is to go to court.
As long as you know that the dog is yours and can prove it in court, you can file a small claims suit.
Here, you do not need a lawyer – just enough evidence that proves that you are the rightful owner of the dog.
Every state has procedures for small claims. In California (and many other states really), expect the following procedure.
1. Send Your Ex A Demand Letter
In short, a demand letter is a write-up that outlines a set of requests towards your ex.
Some courts will ask you to send a letter requesting the dog back before you file a suit.
You are only exempted if you have a good reason why you cannot ask your ex for your pet.
You can make the demand via text or orally but you stand a better chance in court if you do so in writing.
Include your contact information, reasons for wanting the dog back, and an option to mediate.
State how long you are willing to wait (usually 1-2 weeks) and let your ex know that you'll sue if they fail to act.
2. Collect Your Evidence
After sending the demand letter, gather your evidence.
When it comes to small claims suits, judges look beyond registration and pedigree certificates.
They are more interested in who is taking good care of the dog currently.
Prepare documents including vet bills, food and medication bills, vet registration, evidence of who feeds the dog, adoption/purchase paperwork, police reports (if any), text messages with the ex, photos, and videos with the ex, and written statements of witnesses.
3. File The Claims Suit
The next step is to file a small claims suit.
First, find out if the court allows you to file in person, by fax, or online.
Fill out the form and submit it. This costs $30-$75.
4. Serve Your Ex
Once you submit it, you will need to serve the claim and wait for the court to give a hearing date.
You have 15-20 days to serve the defendant before the hearing. Some courts give up to 30 days' notice.
Legally, you cannot serve your ex. Instead, hire a sheriff, process server, or have a friend do it.
5. Attend the court hearing
The court hearing comes about 30-70 days after filing the small claims suit.
During this time, your ex can contact you and have the dog returned.
If they do so, the case will be closed. If not, both parties will appear for the court hearing.
A judge will ask you some questions and request to go over the evidence.
If you have witnesses, they will be examined in court as well. No lawyers are present at the court hearing unless the defendant loses the case and appeals.
Based on the evidence and your words against those of your defendant, the judge will decide who goes with the dog.
If you are declared the winner, the court will request your ex to give you the dog.
Please note that small claims suits aren't always straightforward. For instance, you may sue your ex only for them to present stronger evidence.
If they have been taking care of the dog for a while now and have the evidence for the same, you may lose the case.
Additionally, they may sue back for costs used to take care of the dog. Be prepared for any eventuality.
Parting Thoughts
When your ex keeps the dog that is rightfully yours, you will want to take it back.
Avoid stealing it back from them as this may cause more trouble for you.
Instead, explore the strategies discussed here and hope and pray that you are successful.
Last Updated on July 21, 2022 by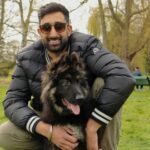 Sable McNeil is a canine chef, professional pet blogger, and proud owner of two male dogs. I have been an animal lover all my life, with dogs holding a special place in my heart. Initially, I created this blog to share recipes, tips, and any relevant information on healthy homemade dog treats. But because of my unrelenting passion to make a difference in the world of dogs, I have expanded the blog's scope to include the best information and recommendations about everything dog lovers need to know about their canine friends' health and wellbeing. My mission now is to find the most helpful content on anything related to dogs and share it with fellow hardworking hound lovers. While everything I share is in line with the latest evidence-based veterinarian health guidelines, nothing should be construed as veterinary advice. Please contact your vet in all matters regarding your Fido's health.