As an Amazon Associate, we may receive a small commission from qualifying purchases but at no extra cost to you. Learn more.
Taking care of a physically or psychologically disabled child is no mean feat.
Because he or she is not entirely independent, they need a person near them at all times.
For a kid with brain damage, the constant concern over their safety is a huge reality.
You worry about them being hyperactive, leaving the house and walking down the street, hurting other people at home, and so on.
The same case applies to a deaf, lame, or deaf child. Without your help, things can go south.
This is where service dogs come in. These special canines are trained to take care of disabled or sick adults and kids.
Depending on the dog and the training offered, the service animal can watch over your beloved in your absence—and for longer periods of time. Others relieve you of some duties so you don't have to follow after your kid all the time.
Getting a service dog is not a walk in the park. Not every disabled child qualifies for one.
If you've applied for such a doggie before, you can identify with this statement.
In light of this, we have put together a guide to help you to understand how to apply for a service dog for a child.
Here's a process to follow from start to finish.
1. Identify your service organization
When it comes to applying for a service dog, every organization operates differently.
Some fundraise for you whereas others need you to dig into your pockets for one.
Then there are those that offer you an already trained animal and the second category that trains him with your child.
Likewise, not all service dog organizations cater to all needs. Some only deal with physical disabilities like deafness, lameness, and blindness while others deal with brain issues.
The bottom line is that you have to decide which organization is best suited for your child.
Read each website, make calls, visit physical offices, etc. Only proceed after you are sure you have what suits your child's needs best.
2. Check the qualification requirements
Once you determine the service dog organization to work with, the next order of business is to go through the qualifications.
These differ from one body to another but expect to come across the following:
Your child should be about 4-12 years old
Be enrolled in an education program
Create at least one hour daily to train with the dog
Live in a family with no dog
Have a guardian or parent who is 18 and above and who can attend training as well
Offer a detailed medical report of the sickness or disability
Go through every requirement and find out if your child has what it takes to qualify.
3. Application
The next thing to do is to visit the website and fill in the application form.
Since you are the adult in question, you will be in charge of this responsibility.
Again, the specific requirements differ for different organizations.
However, typical pieces of information required include:
Who you are in their lives
How you think a service dog can be of help to your kid
What you think is important in a service dog
Fill all the blanks with as much information as you can. The service dog body uses what you put in there to know which service dog is right for your child.
Please note that some service dog organizations have a pre-qualification questionnaire before the application.
When you show your interest in them, they will ask you to fill the questionnaire just to determine if you are the right fit for them. Be prepared for this in advance.
4. Medical report
Along with the application, you need to include a detailed medical report of your child.
The service dog organization often offers a medical form that the medical practitioner should fill.
For obvious reasons, you have to get this report from a reputable doctor.
They should treat the child for a minimum of 6 months before filling out the form.
By this time, they should know what your child suffers from and what his daily life looks like.
5. Reference Letters
The other thing you need to send along with the application is two reference letters.
These are also downloadable from the organization's website.
Have two close family members fill them out. They will need to include things like their contacts, relationship to the child, how long they've known the child, the kind of disability of the child, if they think the parents can handle the dog just to mention a few.
What Next?
After filling out the application, child health form and reference letters, mail them to the address given by the service dog organization.
The reputable ones will let you know that they received your application via email.
The staff at the organization will then review your application and if they deem your child fit, they will contact you.
Chances are high that you will be asked to visit the physical location of the organization.
You will need to be accompanied by your child. This way, they can know if he's a good fit for a service dog and which dog is perfect for them.
If your kid passes this hoop, some people will be sent to do a home inspection of your home.
In the event that there are any changes to be made, you will be asked to do just that before you get the dog.
Please note that this process can take up to 2 years to complete.
Even after the home inspection, you might have to wait for months before your child is paired with a service dog.
The time taken to match the child depends on their needs, personality, home environment, training of the dog, and the length of the queue.
Sometimes it takes up to 4 years to get a service dog.
When the organization locates a service dog for the child, they will reach out to you and ask if you want to proceed.
If yes, you will receive a contract and upon signing it, the dog will be delivered alongside a trainer.
For the next couple of months, you and your child will need to dedicate a few hours every week to training.
As soon as the child and the dog are on course, the trainer will leave them to it.
Closing Thoughts
A service fog provides invaluable support and companionship to a child with a wide range of physical and emotional disabilities.
The application process is thorough and there's no telling whether you will end up with a service animal in the first place.
Nevertheless, it is worth trying. If your child finds a good fit, their life and yours for that matter will change for the better.
Last Updated on October 23, 2021 by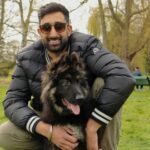 Sable McNeil is a canine chef, professional pet blogger, and proud owner of two male dogs. I have been an animal lover all my life, with dogs holding a special place in my heart. Initially, I created this blog to share recipes, tips, and any relevant information on healthy homemade dog treats. But because of my unrelenting passion to make a difference in the world of dogs, I have expanded the blog's scope to include the best information and recommendations about everything dog lovers need to know about their canine friends' health and wellbeing. My mission now is to find the most helpful content on anything related to dogs and share it with fellow hardworking hound lovers. While everything I share is in line with the latest evidence-based veterinarian health guidelines, nothing should be construed as veterinary advice. Please contact your vet in all matters regarding your Fido's health.