As an Amazon Associate, we may receive a small commission from qualifying purchases but at no extra cost to you. Learn more.
Like any other mammal, your dog's mammary glands will expand when she gives birth and her nipples will be exposed.
This is a natural process that is meant to make it easier for the pups to suckle.
In some cases, the nipples get exposed as soon as the dog gets on heat and then keep getting bigger until she gives birth.
If this is the first time your girl is having puppies, you might wonder if and when the nipples will recede.
You don't have to worry though because the nipples will naturally recede after some time.
But how long exactly does it take?
There is no one-size-fits-all on this but on average the nipples should shrink back in 6-10 weeks. This is after the puppies have been weaned.
However, the nipples might take longer to shrink in some dogs and for some, they might not completely shrink back.
It all depends on several factors some of which you have no control over.
The following are some of the factors that determine how long your dog's nipple will take to recede after she gets puppies.
1. Dogs Are Different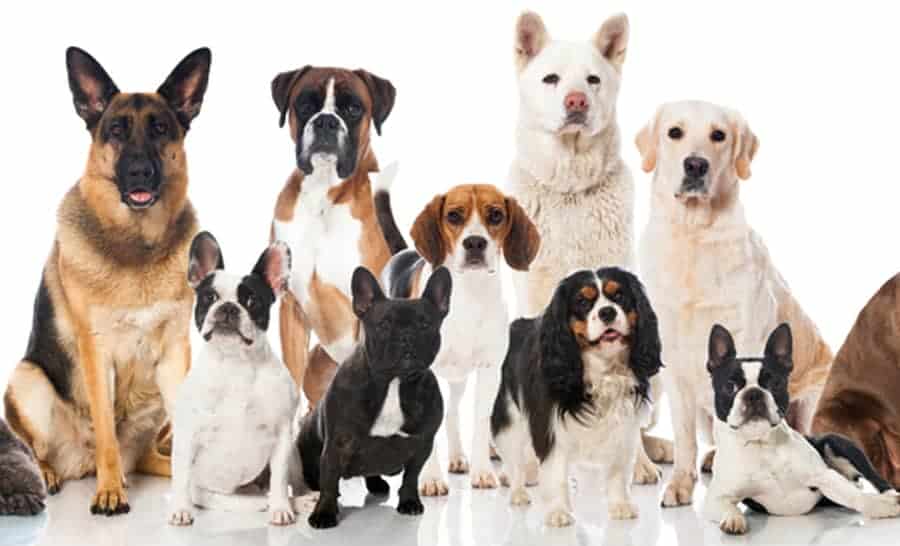 Whether or not a body goes back to normal and how long it takes is one of the similarities between dogs and humans.
Like every woman knows, some get back in shape almost immediately while others don't just get back to the same body type again.
Even though the average time for nipples to shrink back is 6-10 weeks, some dogs can take as much as 12 months.
It's also possible that the nipples of some dogs will never shrink back.
You can have two identical dogs, exposed to the same level of physical activity and diet and still the nipple of one can recede while those on the other don't.
Suffice to say, every dog is different.
2. Physical Activity
Pregnancy and breastfeeding of puppies will take a toll on any dog. She will almost always be exhausted, so she may not be as active as before.
Also, your dog will need plenty of food to produce enough milk for her puppies.
Like humans, dogs add weight when pregnant and since they will have very little physical activity after pregnancy, the weight will remain.
That's why you should get your dog active as soon as she weans her pups.
Lots of movement and exercise will help her shed off the excess weight and that can help the nipples to recede.
3. The Age of Your Dog
The younger your dog is, the better chance she has of her nipples receding as soon as her babies are weaned.
But if the dog is several years old and has had a couple of litters, it might be harder for the nipples to recede.
Part of the reason why nipples don't easily go back with time is the lagging skin that is a result of an expanding stomach during pregnancy.
If you are getting a rescue dog, you may want to find out how many litters she has had as that will give you a rough idea of the probability of the nipples receding.
4. The Number of Puppies
It makes perfect sense that a dog with more puppies will need her stomach to expand more than the one with fewer puppies.
In addition to the larger belly, the mother with more puppies will also need to produce more milk so that her mammary glands will be bigger and her nipples more pronounced.
More puppies also means the nipples will get more tugging and pulling as the puppies compete for their turn to suckle.
As a result, it will be harder for mama dog's nipples to go back to normal.
What To Do If Your Dog's Nipples Don't Recede
Ideally, the nipples of your dog should recede on their own after she weans her puppies.
However, there are a couple of things you can do to increase the chances of the nipples shrinking back.
For starters, you may want to check her diet as soon as she weans the puppies.
It is normal for her to eat more when she is breastfeeding but you may want to get her back to her normal portions.
In addition to watching her diet, get her physically active as soon as is practically possible.
Play with her around the house and also take her for brisk walks daily. This will get her to shed excess weight which will ultimately aid the receding of nipples.
You could also try an old remedy: vinegar. Since time immemorial, breeders apply vinegar on the nipples to help them shrink back.
Vinegar is also a great remedy for sore nipples. After being suckled day and night by her hungry puppies, she will be sore.
So, even if the vinegar doesn't help tuck the nipples back, you can apply it just to ease her pain. However, only apply the vinegar after the puppies have been weaned.
Another remedy is putting your dog in a snug swimsuit. This can act as a body trainer and push back the sunken belly.
However, this will only work if your dog is also exercising and on a healthy diet.
Also, be careful not to hurt your dog. If her nipples are sore, give her time to heal first before you try this method.
Final Thoughts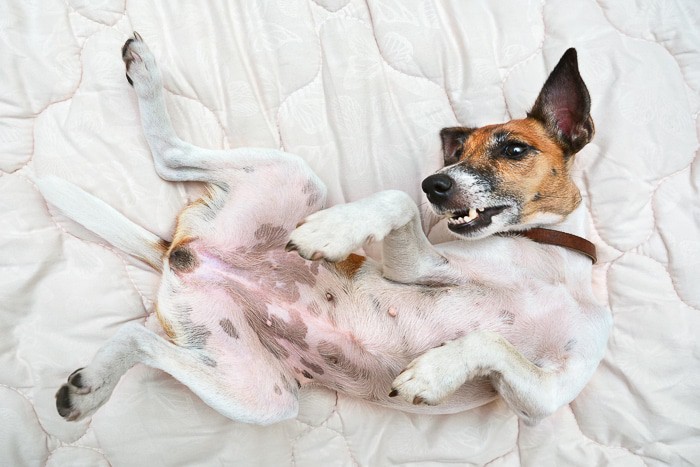 Even after the nipples recede, they will periodically become visible every time she is on heat.
This is just her hormones and nature's way of getting her prepared for childbirth.
Just give it time and she will get back to normal as soon as she is no longer on heat.
A permanent solution would be to get her spayed. Once spayed, she will neither get on heat or pregnant and that means you won't have to worry about her exposed nipples again.
Not spaying your dog also exposes her to other risks. For instance, each heat cycle increases the probability of pyometra.
If you wait until you have to do emergency surgery to remove her uterus, you may not be so lucky.
Such emergency surgeries have a risk factor and not all dogs make it through.
If your dog is old and the nipples just won't recede, don't worry about it.
The exposed nipples are not an imperfection and you can be sure she will get back to her usual activities as soon as she is fully recovered.
For instance, expo dogs can give birth and still get back to their normal self within 12 months.
Don't reject a good dog because of her sunken nipples—it won't affect her quality of life.
Last Updated on October 23, 2022 by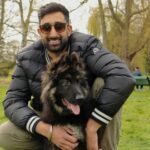 Sable McNeil is a canine chef, professional pet blogger, and proud owner of two male dogs. I have been an animal lover all my life, with dogs holding a special place in my heart. Initially, I created this blog to share recipes, tips, and any relevant information on healthy homemade dog treats. But because of my unrelenting passion to make a difference in the world of dogs, I have expanded the blog's scope to include the best information and recommendations about everything dog lovers need to know about their canine friends' health and wellbeing. My mission now is to find the most helpful content on anything related to dogs and share it with fellow hardworking hound lovers. While everything I share is in line with the latest evidence-based veterinarian health guidelines, nothing should be construed as veterinary advice. Please contact your vet in all matters regarding your Fido's health.