As an Amazon Associate, we may receive a small commission from qualifying purchases but at no extra cost to you. Learn more.
TOPGOLF is a global sports entertainment community that provides a one-of-a-kind experience for all to enjoy.
The company has a presence in North America, South America, Asia, and the Middle East.
Both seasoned golfers and beginners can have a good time with top golf because they use microchipped balls that can help you analyze your progress and become better.
It is, therefore, no surprise that lots of people enjoy handing out at top golf locations near them.
Does TOPGOLF allow dogs?
According to the official TOPGOLF website, all TOPGOLF venues are pet-free.
This means that pet parents who want to have a day of fun with their furry friends will have to look for another activity.
Although it may be disappointing for some, it is important to remember that not all businesses are pet-friendly.
Also, it is not just dogs that are disallowed—the policy prohibits any kind of pet including cats and birds.
A while back, TOPGOLF would allow pet parents to come with their dogs to their facilities.
For instance, the Tampa branch openly invited dog owners to bring their dogs as long as the dogs would only visit the lobby, rooftop terraces, and bays but keep away from any of the indoor eating areas.
However, this was before 2014 and it has been pet-free since 2015 to date.
The TOPGOLF no-pet policy not only applies to pet dogs but emotional support dogs as well.
Even though emotional support dogs are given special protections under the law, this does not extend to private businesses like TOPGOLF.
So, even if you have an emotional support dog, you will not be able to bring it inside a TOPGOLF venue.
The only exception to the rule is service animals. Service animals are allowed in TOPGOLF venues because they are specifically trained to perform a task or job for a person with a disability.
So, if you have a service animal, you don't have to worry about being denied admission with your dog.
In conclusion, the answer to the question "does TOPGOLF allow dogs?" is: No, dogs are not allowed in any of the TOPGOLF facilities.
Why doesn't TOPGOLF allow pets?
As we have seen, TOPGOLF initially accepted pets at their facilities before 2015.
So, what changed that made them review their pet policy?
Well, it is not clear what happened but this is what they said to a client who tried to find out why they had changed their policy on pets:
" As much as we love dogs and other pets, we have to focus on safety and comfort of all, so we are a pet-free facility. Service animals aiding our guests with a disability are permitted, though."
From the above message, we can infer that they made this decision to make the facility welcome for all people – including those who might be allergic to the fur of cats and dogs.
Or maybe they wanted to avoid incidents where unleashed dogs posed a threat to some customers.
We may never the exact reason though.
What Options Do You Have?
Now that we know that dogs are not allowed in TOPGOLF, what other options do you have if you want to enjoy a game of golf with your furry friend?
Well, there are still plenty of places where you can take your dog and enjoy a game of golf.
Some of the dog-friendly golf courses in the US include:
So, if you're just looking for a place to enjoy golf with your dog, there are still plenty of options available.
You can check out the above-listed courses or do a quick Google search to find a course near you.
Parting Thoughts
Although it may be disappointing for some people, dogs are not allowed in TOPGOLF facilities.
The only exception to this rule is service animals that are specifically trained to perform a task or job for a person with a disability.
If you were just looking for a place to enjoy golf with your dog, there are still plenty of other options available.
However, if you specifically wanted to visit TOPGOLF, then your only option would be to leave your furry friend with a friend or a sitter for the day.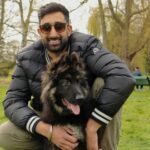 Sable McNeil is a canine chef, professional pet blogger, and proud owner of two male dogs. I have been an animal lover all my life, with dogs holding a special place in my heart. Initially, I created this blog to share recipes, tips, and any relevant information on healthy homemade dog treats. But because of my unrelenting passion to make a difference in the world of dogs, I have expanded the blog's scope to include the best information and recommendations about everything dog lovers need to know about their canine friends' health and wellbeing. My mission now is to find the most helpful content on anything related to dogs and share it with fellow hardworking hound lovers. While everything I share is in line with the latest evidence-based veterinarian health guidelines, nothing should be construed as veterinary advice. Please contact your vet in all matters regarding your Fido's health.