As an Amazon Associate, we may receive a small commission from qualifying purchases but at no extra cost to you. Learn more.
Dogs are beloved members of the family. They keep their owners company, lift their spirits when they are low, protect them fiercely, and love them unconditionally.
When the whole family is out at the mall shopping, it is only fair that they bring their pet along.
Sadly, some stores have a no-pet policy except for service animals only.
For dog lovers, this is a great turn-off because it hurts to have to leave your dog in the car or get a sitter when you are walking around the mall shopping.
So, where does JCPenney stands? What's JCPenney's policy on dogs? Do they allow dogs in their establishments?
JCPenney
Founded in 1902, JCPenney has been around for a little over 12 decades.
It has grown in leaps and bounds over the years selling all kinds of merchandise including appliances, shoes, handbags, clothes, and jewelry just to mention a few.
With more than 800 stores across the United States and Puerto Rico, it is a well-known, successful corporation.
But is it really dog-friendly?
The official JCPenny Pet Policy
JCPenney isn't upfront online about whether they accept dogs in their stores or not.
Their official website doesn't have any information about their stand on pets parading in their stores.
However, people who have visited the store claim that the retail chain is not dog-friendly at all.
This Yelp user confirms this statement by saying that the store only accepts service animals and not regular dogs.
The Complaints Board site also has one user raising an alarm over a situation where she came across a dog when shopping at JCPenney's.
When she asked the manager if dogs were indeed allowed, the response was that the store doesn't allow pets in there.
Other sites such as Saving Advice have equally listed the departmental store as one that is not friendly to our furry friends.
With that said, JCPenney sometimes holds special events where dog owners are allowed to come in with their dogs.
A good example is 2017's dog-friendly shopping day where dogs were let in between 10 AM and 12 AM.
During this special day, dogs were treated to doggie treats, nail painting, and free pet pictures.
The only qualification was that the pooch needed to be well-behaved and on-leash.
Are Service Animals Allowed At JCPenney's Stores?
Through the ADA, genuine service dogs are typically allowed in public areas – JCPenney's stores included.
They perform plenty of duties for their owners and are thoroughly trained to behave well when out in public with their handlers.
JCPenney certainly accepts service animals in their stores as long as they don't cause havoc.
If you are wondering whether you need papers for your dog to be able to shop at the store, give it a rest.
The law doesn't give the employees or staff any right to ask for documentation.
All you need to do is to explain to them what the service dog is there to do and proceed to shop.
Of course, if the dog becomes aggressive and causes problems to others, eliminates in the wrong places, or makes noise at other dogs and shoppers, JCPenney has a right to remove him from the store.
What if your service dog is denied access? What if you are asked for proof of your service dog?
Well, don't fret. Learn what to do in the following posts:
Final Thoughts
JCPenney is great and all but it doesn't allow pets in its establishments.
Unless you have a service dog, your pet stands no chance of enjoying the wide concrete aisles at the store.
Lucky for you, there are many other dog-friendly businesses to consider if you have to bring the dog everywhere with you.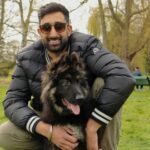 Sable McNeil is a canine chef, professional pet blogger, and proud owner of two male dogs. I have been an animal lover all my life, with dogs holding a special place in my heart. Initially, I created this blog to share recipes, tips, and any relevant information on healthy homemade dog treats. But because of my unrelenting passion to make a difference in the world of dogs, I have expanded the blog's scope to include the best information and recommendations about everything dog lovers need to know about their canine friends' health and wellbeing. My mission now is to find the most helpful content on anything related to dogs and share it with fellow hardworking hound lovers. While everything I share is in line with the latest evidence-based veterinarian health guidelines, nothing should be construed as veterinary advice. Please contact your vet in all matters regarding your Fido's health.