As an Amazon Associate, we may receive a small commission from qualifying purchases but at no extra cost to you. Learn more.
Crusoe the Celebrity Dachshund is just that, a celebrity! Since 2011 when he made his debut on social media, his fame has exploded like a wildfire.
Dog lovers and enthusiasts across the globe can't get enough of him. Both his books are bestsellers. All his Facebook, YouTube, and TikTok videos have become internet sensations.
Whether he uploads a video of him hanging out at home, trying a new homemade outfit, or taking an international trip to Europe, he will be watched millions of times.
He may be miniature but his personality and fame are quite the opposite.
If you want to know more about Crusoe Dachshund, you have certainly come to the right place.
Here are 10 facts you didn't know about the lovely dog.
1. He's more than a decade old
Crusoe is a very experienced and camera-confident dog. That comes with years of experience on the job.
Born in Montreal, Canada on October 23, 2009, the charming Dachshund has mastered the art of appeasing his fans.
His parents, Ryan and Beauchesne and Lauren Dionne, exposed him to social media during the second year of his life, in 2011 to be exact.
He quickly rose to his celebrity status and has never left.
2. His original name was Tuscan
At the time of his birth, Crusoe's breeder gave him the name Tuscan.
His mom and dad changed the name to Crusoe, the famous Robinson Crusoe, thanks to the dog's deep sense of adventure and his natural ability to catch the public's attention.
Apparently, his father made the name switch when he discovered the dog was going to become a celebrity.
According to him, the Crusoe name was befitting perhaps because of who the dog was named after. Evidently, daddy was right on that one!
3. He has two siblings
If you are an ardent follower of Crusoe the celebrity, you have probably met his brother Oakley!
He has the same killer looks and is goofy and clumsy, a real pleasure to watch.
Oakley just so happens to stay with Crusoe's grandparents and makes appearances during family reunions and when Oakley comes over to stay with Ryan and Lauren.
Crusoe and Oakley share the same father but have different mothers so they are technically stepbrothers.
Both brothers recently received a long-haired sister called Daphne who is the only one.
Hopefully, we will see more of her in the coming days.
4. He is a real star
Crusoe made his entry to the public space in 2011 when he joined social media.
However, he caught the attention of fans when he won the "best trick" in a wiener dog event.
His owner, Ryan Beauchesne, also went on to publish two books "Crusoe the Celebrity Dachshund: Adventures of the Wiener Dog Extraordinaire" and "Crusoe, the Worldly Wiener Dog: Further Adventures with the Celebrity Dachshund".
Both books are New York Times bestsellers. In addition, Crusoe received the "Best Animal" award in the 2018 People's Choice Award for Animal Star.
He's a pretty big deal and has been plunged to international celebrity status through these achievements.
5. His social media profile is massive
This one is a no-brainer. When it comes to social media, Caruso Dachshund leaves nothing to chance. His presence on the major platforms is solid and huge.
According to Wikipedia, the animal star has over 3 million likes and over 1 billion views on Facebook alone.
His 2017 FB series documenting his life has become a major success.
As of 2020, the series has already hit four seasons and counting.
On Instagram, Crusoe boasts 700,000 followers and enjoys over 1 million subscribers on YouTube.
He also recently joined TikTok and already has a profile with over 10 million views.
Finally, Crusoe was also a part of Vine and had over 10 billion loops.
6. He's made tons of press appearances
In addition to his social media profile and books, Crusoe the Celebrity has traveled the world perhaps more than most human beings on the planet.
So far, he's been to a number of States in the United States, Canada (of course), Florida, Bahamas, Maine, Italy, Mexico, Switzerland, and France.
A number of media outlets have covered his travels including HuffPost, Lonely Planet, and Metro.
As for public appearances, the dog has been on Mashable, Good Morning America, Buzzfeed, ESPN, New York Mag, and NHL.com.
That's not all; Crusoe's fishing adventures were featured by GoPro, an online advertising firm as well as a TV ad for Recreational Boating & Fishing Foundation.
Finally, he was also the 2016 ad campaign face of the Heinz Wiener Stampede Super Bowl.
7. He's rich
With a huge social media following, two New York Times bestsellers, and frequent public appearances, you bet Crusoe the Celebrity is a rich dog.
According to Trend Celebs Now, the dachshund was worth $1 million to $5 million. Idol Net Worth puts this figure at $3 million.
Now you know why the lovely dog can afford expensive trips across the world and a lavish lifestyle in general.
Of course, his parents pocket the rest of it to put food on the table and enjoy a life a little as well.
8. He's had a surgery
In August 2016, Crusoe went under the knife to fix a ruptured disc in his spine.
The condition is referred to as Intervertebral Disc Disease (IVDD) and is common among dachshunds. Over 25% of them suffer from it at one point in their lives.
Surgery helps to get rid of the ruptured material.
Crusoe's parents had to rush him for emergency surgery which went quite well.
Of course, the dog had to learn how to walk again and take a long recovery time but he braved it all and has now recovered 100%.
By 2017, his vet had given him a clean bill of health and made his parents and fans very happy.
9. He is shy
This might come as a shock to you considering Crusoe's outgoing and accommodating personality in front of the camera.
Well, it turns out the miniature dachshund is a little shy of meeting new people and dogs.
He's confident and bold for the most part but when you introduce him to strangers, he tends to shut down for some time.
Clearly, his owners have done a good job of helping their fur baby overcome this problem. This trait is seldom seen when he makes public appearances and travels.
10. He skips when he walks fast
Finally, Crusoe celebrity Dachshund assumes a weird walking posture when walking really fast.
You'd have to be careful to notice this but essentially, the dog some sort of skips or trots in between a walk and run.
He will lift his right back leg and make his motion using his left back leg only.
His vet told his parents Crusoe's knee pops in and out and that the skip feels more comfortable for the miniature dachshund.
Thankfully, the walking style has no effect on the health of the dog at all.
Closing Thoughts
Crusoe the Celebrity is a real force of nature. He's a natural when it comes to commanding attention.
Lucky for him, his parents noticed this fact earlier on and tapped into it. Now, he is a real sensation across the planet.
Last Updated on August 2, 2021 by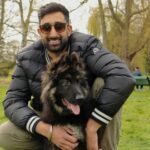 Sable McNeil is a canine chef, professional pet blogger, and proud owner of two male dogs. I have been an animal lover all my life, with dogs holding a special place in my heart. Initially, I created this blog to share recipes, tips, and any relevant information on healthy homemade dog treats. But because of my unrelenting passion to make a difference in the world of dogs, I have expanded the blog's scope to include the best information and recommendations about everything dog lovers need to know about their canine friends' health and wellbeing. My mission now is to find the most helpful content on anything related to dogs and share it with fellow hardworking hound lovers. While everything I share is in line with the latest evidence-based veterinarian health guidelines, nothing should be construed as veterinary advice. Please contact your vet in all matters regarding your Fido's health.