As an Amazon Associate, we may receive a small commission from qualifying purchases but at no extra cost to you. Learn more.
There are several benefits of walking dogs. For starters, you get to be around some of the most amazing creatures on earth.
Secondly, walking a dog offers gets you on your feet hence keeping you in shape and keeping your heart healthy.
Being around dogs all the time is also good for you emotionally.
To top it all off, you can actually make a career out of what you love.
Dog walkers these days can make a living from what would have otherwise been a hobby.
If you are curious about a career in dog walking, you have come to the right place.
We have put together a detailed guide explaining how much to expect, how many hours to work, career trends, and other juicy subtopics.
Rest assured you will learn a thing or two from this post.
Let's dive right in…
Dog Walking Salary Factors
Like any other career out there, dog walkers' salaries/wages vary due to a combination of factors, including:
A. Location
Different states have different salary profiles for their dog walkers.
You could earn less or more than your counterpart from a different state even with the same resume.
So, if you want more cash as a dog walker, you will need to position yourself right.
B. Number of dogs walked
The higher the number of dogs walked at one time, the higher the pay.
Some walkers charge the same amount for all the dogs. Others give a discount for an owner's second or third dog.
Either way, there are more bucks for walking multiple dogs compared to one.
C. Advertising
The harder you throw yourself out there, the higher your likelihood of getting more jobs and consequently more money in your bank account as a dog walker.
D. Training And Certifications
Formal education is not necessarily a requirement for being a dog walker.
However, taking certain courses related to dog walking and animal care can build your portfolio more than you will ever know.
Consider taking courses such as animal first aid, dog obedience, leash training, animal body language, animal nutrition, and pet grooming.
Certifications from different dog organizations also impress clientele and earn more money in the process. The same goes for on-the-job training.
E. Experience
A pet walker with previous experience demands higher pay than a rookie in the field. Owners easily trust them because they have handled many dogs before.
How Much Do Dog Walkers Make?
Let's now focus on the amount that you are likely to make as a dog walker. So, how much can you make as a dog walker per hour, day, week, month, or annually?
Let's find out…
Dog Walkers' Wages per Hour
As of September 2022, the average hourly salary for a dog walker in the United States stands at$12.02 to $17.79.
That makes the average about $15.19 per hour.
The rate can go as high as $25 and as low as $ 6.49 depending on the location, education, additional skills, certifications, years of experience, and skill of the walker, among other factors.
Salary.com puts the dog walker wage at $16 per hour as of late August 2022.
Again, the figure can go up or down depending on the aforementioned factors.
With these averages, we have to know the number of hours that you may need to work in a day as a dog walker. This way, we can have a rough idea of what you can make as at the end of the day or week.
So, how many hours do dog walkers work?
Most dog walkers are self-employed thus setting their own rules regarding working hours.
Some do it for three hours while others consider it their 9-5.
Others love their jobs so much that they work well beyond 8 hours.
If you are employed by a dog walking firm, your time is likely to be set for a specific number of hours – often about 8 hours a day.
Dog Walkers' Wages per Day
How much do dog walkers make in a day?
The amount of money a dog walker makes per day depends on their charge per hour, the number of hours worked, and the number of dogs walked.
Experienced walkers can handle up to 7 dogs in one sitting.
If each batch of dogs takes two hours to walk and the person charges $15 hours to work, the hourly salary is $15×7 which is $105.
If the walker does the job for 6 hours a day, they get to walk away with $105 x 6 = $630.
Starters can only walk one dog for a few hours a day, so their wages per day will be much lower than this.
Dog Walkers' Salary per Week, Month, & Year
The national average weekly wage for a dog walker is around $607 based on per week.
But as you've probably guessed already, different cities have different rates.
For instance, a walker in Manhattan, NY earns $723 per week while the same person will get $683 in Lake Marcel-Stillwater, WA.
Besides the geographical location of the dog walker, other factors such as the years of experience, the number of dogs walked, and the hours walked to determine the weekly wage.
Based on these averages, expect to make around $2,374 every month as a dog walker in the United States.
However, as mentioned before, some cities have higher pay scales while others come with lower pay scales.
What about annually—How much do dog walkers make in a year?
After surveying 1,000 small business owners, Thimble.com concluded that dog owners make between $25,000 and $50,000 annually.
The median stands at $31,428 while the low wage is $20,384.
High-flyers walk home with $60,528 or more every year.
How Much do Dog Walkers Make per Walk?
The national average for a low-end dog walking service is about $10 for a 30-minute walk while that for a medium-range dog walking service for the same amount of time is $20.
The fee for a high-end service is approximately $30 or more.
Most owners spend anywhere between $15 and $25 per walk.
If their dogs are walked with others, the rate can be scaled down to about $10 – $15.
But, how many dogs does a dog walker walk a day?
The answer to this question is that it depends on the walker.
Professional and experienced walkers can walk 6-8 dogs at a time (for about 1-2 hours).
If they do it for 4 hours, they will end up walking 24-32 dogs every single day.
Rookie walkers or those paid to walk one dog at a time can walk four or so dogs a day.
Then there's the fact that some do it part-time while others go full-throttle.
Therefore, it is really up to the dog walker to determine how many dogs they can comfortably walk per day.
Finally, how many dogs can you walk legally?
In the United States, there are no laws restricting dog walkers on how many dogs they can walk at a single time.
As long as you ensure the safety of all the dogs and others around, it is really up to you.
However, in the UK, things are different. The National Association of Pet Sitters and Dog Walkers (NARPS) recommends waking no more than four doggies at a time.
This is done to keep the canines and the public safe.
How much do dog walkers make on Rover?
Rover is a great platform to market your services and in turn, get dog-walking clients.
The app brings together walkers and pet parents.
The latter get to read reviews of the former and choose them for a dog walking gig if they are pleased with what they see.
The app pays dog walkers an average of $14.58 per hour. The lowest hourly income you can expect is $7.25 and a high of $26.25.
That is pretty decent pay for one dog. If you can handle more than one, you will smile all the way to the bank.
Keep in mind that Rover retrieves a 20% service fee on each service.
How Much Do Dog Walkers Make on Wag?
Wag is yet another interactive platform linking pet sitters and walkers with pet parents.
As long as you are over 18, live in the city where the platform operates, and pass a simple background check, you can begin working for money as a dog walker on Wag.
The platform offers $20 to walk a dog for 30 minutes.
If you want extra cash, you can offer to pet sit or board and earn an additional $26 per night.
Wag's service fee stands at 40% for every booking.
Pro Tip
Both Rover and Wag come with their sets of pros and cons.
When it comes to which one pays better, it is clear that Wag pays its walkers better than Rover.
However, when you factor in the fact that they deduct a higher service fee, both apps come to about the same result.
If you make $15 or Rover, you end up with (0.8 x $15) = 12.
For Wag, a $20 earning will eventually guarantee (0.6 x 20) = 12.
Still, Rover is an easier app because applications take less time to be approved, so you can start work soon.
Other great apps for making huge bucks include Fetch!, Steady, Holidog, Petbacker, and Swifto among others.
How Much Does A Teenage Dog Walker Make?
Teenagers are increasingly taking up dog walking to earn an extra income during the weekends or after school.
If you love spending time with a bunch of furry friends, you can become a walker around your neighborhood.
The average pay to expect as a teenager is about$5-10 per walk.
Longer walks and multiple dogs will fetch you more money as well as having extra skills such as pet sitting and pet grooming.
How Much Do dog walkers make walking dogs in Animal Shelters?
Animal Shelters work with donations, for the most part.
It is thus unlikely that you can make any money by walking dogs for one.
Often, the shelters accept volunteers to walk their animals.
Don't bank on minting money from an animal shelter as a dog walker.
How much do dog walkers make walking dogs that are old or small breeds?
The rate for walking dogs is similar across the divide.
Dog walkers don't typically charge more or less based on the age or breed of the dog.
However, if your pet needs additional services from the walker, you will have an agreement with the walker in person.
For instance, if the pet cannot be out with other agile dogs because of arthritis, you will need to pay higher for having him walk alone.
The figure depends on the condition of the dog and the walker in question.
Like old dogs, small dog breeds demand the same amount as any other dog.
It is uncommon to be asked more or less to have a small dog compared to bigger canines.
How To Increase Your Salary As A Dog Walker
Want to push your pay as a dog walker? Consider doing the following:
Improve your skills by taking on courses such as dog behavior, leash training, potty training, canine First Aid, and potty training. These will make you more competitive than your counterparts.
Ensure the safety and good behavior of the dogs you are walking. If you stay consistent, more clients will want to hire you.
Gain experience: You can do it by walking as many dogs as you can for diverse clients. Pet owners tend to trust seasoned dog walkers over beginners.
Acquire Certification: Dog walkers can also benefit from getting different certifications such as certificate IV in Companion Animal Services and Certification III in Dog Training and Behavior. They have an easier time finding clients as they appear more trustworthy than unqualified walkers.
Do Dog Walkers Charge Additional Dog Walking Fees?
If you have two or more dogs as a pet parent, you must wonder if walkers charge a flat rate for all or offer some sort of discount for the additional dogs.
Well, the truth is that different walkers have different pricing strategies.
The bulk of them charges an additional $5 for every extra dog.
Others give a 50% discount for every additional dog. Still, another category maintains the same amount for every dog.
Finally, some have specific prices for a given number of dogs.
Is Dog Walking A Good Business?
Dog walkers are undoubtedly in high demand now and in the years to come.
People have to go to work leaving their pets at home.
Walkers ensure the canines get enough exercise and remain healthy even in the absence of their owners. The parents are willing to cough out cash to make sure of this.
If you are good as a dog walker, you will certainly reap the rewards.
An hourly wage of $15-$30 is more than what many people earn in their office jobs.
If you can walk many dogs for more hours a day, you will certainly make a decent living.
But like any other business out there, starting a dog walking business is both challenging and fulfilling.
Here are some of the pros and cons of such a venture.
Pros
Low startup and running costs: unlike most businesses, you don't need a lot of cash to start and run a dog walking business.
Rewarding business: Doing something you are passionate about while solving a need in the market is pretty rewarding.
Good customer retention rate: if you do a good job, customers will keep coming back for more.
Flexibility: you get to choose the clients to get into business with. Plus, you can also limit your workload.
Good income potential: there's no telling how much you can make as a dog walker.
Physical fitness: dog walking involves being on your feet for most of the day.
Cons
Inconsistent work: dog walking is hard to predict. This can also mean unpredictable income.
Challenge motivating employees: getting good incentives and a good working environment for employees can be a real challenge.
Repetitive work: doing the same thing over and over again can be rather tiresome.
Demanding job: although walking dogs is rewarding, it comes with its stresses especially if you come across badly-behaved pups.
Cost of Running A Dog Walking Business
A dog walking business isn't too capital-intensive.
It is also pretty low on running costs compared to many businesses out there.
You will need to have a car to move around and enough gas for it and enough supplies (poop bags, extra leashes, and pooper-scoopers).
Perhaps the biggest expense is paying for insurance. Things can go wrong. Dogs get into accidents and fights. They may also bite someone.
Without insurance, you risk losing a lot of money in lawsuits.
Do You Need Training To Be A Dog Walker?
Technically, you don't need any training to start walking dogs.
However, handling different dogs requires a certain skill level.
Training gives you some knowledge of canine behavior.
It also adds to your level of confidence plus it sells your services to clients better.
Is Walking Dogs A Good Way To Make Money?
If you enjoy being around dogs, this is the best career for you.
Most dog walkers enjoy what they do. They get to hang with cute and furry companions, spend time outdoors, get fit and earn money in the process.
Additionally, they don't have to report to any boss or ask for permission to go to the hospital.
If you get good money, dog walking is certainly a great career for you.The opposite is also true.
Can You Make A Living Dog Walking?
For sure! People are earning cute bucks year in and year out just walking dogs around their neighborhoods.
In 2017, BuzzFeed reported about two Californian professional dog walkers who rake in $30,000 to $80,000 annually.
If you are really good, you can make $100K – $200K a year from dog walking according to The Hustle.
Very few people have reached this level of income in the world.
Should I Do Dog Walking Business Full Or Part-Time?
Because of the unpredictability of dog walking, most people do it part-time.
If you already have something that gives you predictable income, consider walking dogs as a side thing.
However, if you love pups so much and think you can handle the challenges that come with dog walking, go full-time.
The Future Of Dog Walking Career
The United States Bureau of Labor Statistics (BLS) projects that the animal care and service workers fields will see a growth of 29% from 2021 to 2031.
Most careers follow the overall growth of 7% for all occupations making dog walking a lucrative field to consider.
More pet owners don't mind spending good cash to give their dogs their best now more than before.
As time passes by, more households add pets to their families meaning that dog walkers get more opportunities for work.
Parting Thoughts
Dog walking has come from afar. A few years ago, reports of people doing it as a career were unheard of.
Now, you can choose it as your only source of living without any regret.
Sure, you have to put in the work but if you stay the course, you will be plunged to riches in a few years.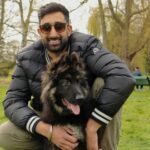 Sable McNeil is a canine chef, professional pet blogger, and proud owner of two male dogs. I have been an animal lover all my life, with dogs holding a special place in my heart. Initially, I created this blog to share recipes, tips, and any relevant information on healthy homemade dog treats. But because of my unrelenting passion to make a difference in the world of dogs, I have expanded the blog's scope to include the best information and recommendations about everything dog lovers need to know about their canine friends' health and wellbeing. My mission now is to find the most helpful content on anything related to dogs and share it with fellow hardworking hound lovers. While everything I share is in line with the latest evidence-based veterinarian health guidelines, nothing should be construed as veterinary advice. Please contact your vet in all matters regarding your Fido's health.