As an Amazon Associate, we may receive a small commission from qualifying purchases but at no extra cost to you. Learn more.
Getting a new dog is always fun! As you bring your new furry friend through the door, they may be a little nervous and unsure of their new surroundings.
It might take some getting used to as both you and the dog get to learn each other.
There is even a possibility that other members of the family may not hit it off with the new pup.
But, once you get to know each other's rhythms, the dog will become an inseparable part of your family.
Here are a couple of gotcha day dog quotes to keep you entertained as you work on assimilating the furry baby into the family.
When my dog found me, I realized how much I need her. She filled a void I didn't even realize I had.
I got a house and it was a house – then I got a dog and now it's a home.
Happy gotchaday to our fur-avorite pal!
We are the perfect match – like bread and butter.
If its Gotchaday, then its time go "terrier" into some fun moments!
My human, let's make a deal. I'll teach you how to play fetch, and you teach me how to blow out candles.
It's true you cannot buy love – but you sure can rescue it!
If you think diamonds are a girl's best friend, try rescuing a dog.
"woof! Woof! Woof!" It's my pawty so excuse my woofs!
I know you wanted to play fetch but then I thought, "fur-get it!"I had given up on life –and love. And then I got this slobbering goofball and I realized there is hope still.
Today is Gotchaday! Expect lots of funshine. The only tears today will be tears of joy.
What do you mean you can't choose a relative? I chose my dog.
Dog moms are just like any other mom but better, hipper and pawsome.
Birthday Advice from Your Dog:
Be loyal.
Have joy with toys.
Make new friends.
Guard your family at all costs.
Never be too old to try new things.
Always greet your family happily.
Want to know love? Get a dog.
Old dogs are like old shoes. They may be rough around the edges but they are still comfy and fit just right.
Be shamelessly happy all the time –just like your dog.
Today is gotcha day – the perfect day to paws and reflect on my blessings.
Itch my Gotchaday! Excuse me as I do whatever makes me wag my tail.
If you have a house without a dog, it's not yet a home.
I always wanted my life to be magical but I knew it was just a fantasy – then I got a dog and she turned my life into a fairytale.
I've been to lots of therapy sessions but the day I got a dog, it occurred to me that there is no better therapist than a dog.
I got a new dog and named her six miles. Now I can truthfully brag to my friends, "I walk six miles every day"
Isn't it funny how you can kiss your dog on your lips but you can't share a glass with your spouse?
I know my dog makes you uncomfortable but don't be afraid to come over. I have a safe room I can lock you in.
My friends used to call me dumb – and I thought they were right until I got a dog. No matter what I say, my dog always looks at with bewildered amazement like he is inspired by my genius.
Since I got my dog, my wallet is seldom full and my house is never tidy – but my heart is always full and that's enough.
The secret to happiness is yappiness.
It's gotcha day so I am gonna paw-ty like life depends on it!
We hope you found our quotes re-bark-able. Have any other quote that you think we should include on our list? Do let us know in the comments section!
Also check: Is Gotcha Day Only For Adopted Dogs?
Last Updated on February 22, 2023 by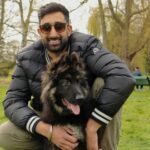 Sable McNeil is a canine chef, professional pet blogger, and proud owner of two male dogs. I have been an animal lover all my life, with dogs holding a special place in my heart. Initially, I created this blog to share recipes, tips, and any relevant information on healthy homemade dog treats. But because of my unrelenting passion to make a difference in the world of dogs, I have expanded the blog's scope to include the best information and recommendations about everything dog lovers need to know about their canine friends' health and wellbeing. My mission now is to find the most helpful content on anything related to dogs and share it with fellow hardworking hound lovers. While everything I share is in line with the latest evidence-based veterinarian health guidelines, nothing should be construed as veterinary advice. Please contact your vet in all matters regarding your Fido's health.