As an Amazon Associate, we may receive a small commission from qualifying purchases but at no extra cost to you. Learn more.
I bet you love cupcakes. These treats aren't just for humans alone. Your furry friend also enjoys delicious cakes. So, why not prepare a homemade dog cupcake for your pooch on their birthday? Yes, it's a great birthday gift, which will definitely make your pup feel special and appreciated.
Commercial dog cupcakes have additives and preservatives that will do more harm than good to your dog. Therefore, get in the kitchen and prepare simple cupcakes for your dog.
If you do not know how to go about it, worry not. This guide will exhaust everything you need to know about making homemade dog cake for your pup. You will also learn some easy dog cupcake recipes that you can make at home.
How to Make Dog Cupcakes: General Procedure
It's easy to make cupcakes for your dog. All you need to do is mix a few ingredients and bake the resulting batter in cupcake tins. Here is a quick overview of what you need to do (we will cover detailed-procedures in the recipe section).
Measure your ingredients. Depending on your recipe, ensure that everything is ready and within reach so that you don't forget any important ingredient.
Preheat the oven to about 3750F (this is done to ensure even and accurate baking).
Get cupcake pan and liners ready. You need cupcake liners and pan to hold your cake. If you don't have liners, you can use cups but remember to grease them with dog-friendly oils to prevent your cakes from sticking.
Mix your ingredients in a mixing bowl. You need to mix the flour, baking powder, eggs, and butter and stir until the ingredients are combined. What to add at this stage will also depend on your recipe.
Fill the cupcake liners. Fill them 2/3 to ¾ full so that they don't overflow and mess the process.
Put the cupcake liners in a cupcake pan and bake in an oven. After about 15 minutes, remove your cakes and let them cool.
Meanwhile, prepare your frosting.
Add all your frosting ingredients and mix thoroughly. Transfer the mixture in a piping bag and then pipe small swirls on each cupcake.
That is it! You can now feed your dog the tasty cupcakes.
You can also watch this video for more insight:
Easy Dog Cupcakes Recipes
1. Apple Crunch Pupcakes
Ingredients
2 cups of water
¼ cups apple sauce
¼ tsp vanilla extract
1 egg
4 Tbsp honey
1 Tbsp baking powder
4 cups whole wheat flour
1 cup chopped apples (1 apple)
6 oz. Vanilla CANDIQUIK Coating
Instructions:
Mix water, egg, apple sauce, honey, and vanilla then whisk.
Gradually add wheat flour and baking powder as you stir.
Fold in the chopped apples.
Add the mixture in greased muffin tins and bake for up to 30-40minutes.
Melt the CANDIQUIK and pour it into a piping bag for frosting.
2. Cheddar Cheese Carrot Pupcakes
Ingredients
1 cup whole-wheat flour
1 tsp baking powder
1/4 tsp baking soda
1/2 apple, chopped
2 1/2 tablespoons safflower oil
1/2 cup grated cheddar cheese
2 tbsp honey
1 large egg
1/4 c plain yogurt
1/4 cup diced carrot
Instructions
In one bowl combine flour baking powder and soda.
In another bowl, mix eggs, honey, and yogurt and blend before adding carrot, apple, and cheese. Add this to the flour mixture and stir to mix properly.
Fill your muffin tins to 3/4 with the mixture then bake for about 20 minutes in the preheated oven.
3. Peanut Butter-Bacon Pupcake Recipe
Ingredients
2 cups whole wheat flour
1 tablespoon baking powder
2 eggs
1 tablespoon peanut butter
4 strips of bacon, cooked and crumbled
¼ cup of vegetable oil
½ cup of water
½ cup apple sauce
Instructions
Preheat oven to 350F. Meanwhile, fry up the bacon.
Combine flour, peanut butter, water, eggs, apple sauce, vegetable oil, and baking powder in a bowl and mix with an electric mixer.
Add half of the crumbled bacon and mix.
Spoon the mixture into muffin tins to 3/4 full and drizzle the remaining bacon on top of the muffin tins.
Bake for 25 minutes. If you stick a toothpick in the muffins and it comes out clean, then your bacon dog cupcakes are ready.
4. Apple Dog Cupcake Recipe
Ingredients
3 tablespoons peanut butter
1/2 small/medium apple, diced
1/2 teaspoon baking powder
1 whole egg
bacon bits for topping
Instructions
Preheat oven to 350F.
Mix all your ingredients in a bowl.
Spoon this mixture into cupcake tins.
Bake in the oven for about 20 minutes.
Allow it to cool before frosting with peanut butter and bacon bits.
5. Pumpkin Dog Cupcakes Recipe
Ingredients
½ cup whole grain oat flour
½ cup (113 g) pumpkin pureé
½ teaspoon cinnamon
½ cup (50 g) shredded carrot
1 egg
1 tablespoon (28 g) peanut butter
1 tablespoon maple syrup
1 teaspoon baking powder
¼ cup (57 g) Greek yogurt
Instructions
Preheat oven to 350° F.
Add all ingredients in a bowl and whisk.
Spoon the mixture in the muffin tins and bake for about 35minutes.
Allow it to cool before pipe frosting.
6. Sweet Potato Carrot Dog Cake
Ingredients
1 cup almond flour
½ cup sweet potato puree
¼ cup of water
½ cup shredded carrots
1 teaspoon baking powder
2 tablespoons honey
3 tablespoons melted coconut oil
Instructions
Preheat oven to 350° F.
Combine honey, sweet potato puree and coconut oil. Add baking powder, almond flour, water and carrots, and stir.
Bake for about 25 minutes.
Allow cake to cool and frost with yogurt, shredded carrots, and sweet potato puree.
Ingredients that you Should Include in Your Homemade Dog Cupcake Recipes
To make your dog cupcakes more nutritious, consider adding the following ingredients in your recipe:
Apple: Apples have high levels of vitamin A & C, fiber, and minerals like calcium, which are all essential for your dog. They are also rich in antioxidants, which are known to improve the immune system, bone development, and healthy skin and coat in dogs. Remember to remove the apple seeds as they can be toxic to your pup. If you do not have an apple, you may consider other healthy fruits like seedless pears, blueberries, banana, and strawberry.
Carrots: Besides being potent antioxidants, carrots are rich in fiber, vitamin A, K, and packs a host of minerals, including potassium, iron, phosphorous, manganese and beta-carotene. They can, therefore, boost your dog's skin and coat health, enhance immunity, and maintain good digestive health in your pooch.
Vegetables: Besides carrots, you can use other vegetables like crushed peas and spinach. Vegetables are good for your dog's nerves, muscles, and kidneys.
Sweet potatoes: Sweet potatoes have high fiber content, lots of minerals like calcium, potassium and iron, vitamins A, B6, and C, all of which play a critical role in boosting your dog's overall health.
Pumpkin: Pumpkin is rich in fiber that helps to promote healthy digestion, boost immune health, and moisturize skin and coat among many other health benefits.
Avoid adding these ingredients to your dog cupcake recipe as they are toxic to dogs: Chocolate, Macadamia nuts, Onion and Garlic, Cherries, Sodium, and Grapes.
Healthy Frosting Ideas for Your Homemade Dog Cupcakes
In addition to decorating and adding taste to your cakes, toppings can give a slight boost to your dog's mineral, vitamin, fiber, and antioxidant intake for the day. So, make sure you add your pup's favorite topping after making cupcakes.
Below are some healthy toppings you can include;
Bananas: Bananas are rich in manganese, potassium, fiber, vitamin B6, and vitamin C.
Peanut butter: Natural peanut butter is rich in proteins, healthy fats, minerals, and vitamins. Ensure that the peanut butter you use contains no added salts and preservatives.
Coconut milk: Coconut milk contains lauric acid that aids in boosting the immune system of your dog. Besides, it is made up of albumin that helps in clearing up your dog's skin as well as the formation of red blood cells. And if your dog has bad breath, you might consider adding coconut milk to your homemade cupcakes as it removes bad breath.
Honey: Natural honey contains vitamins and minerals that are beneficial to your dog. Besides, honey has relaxing, healing, and antiseptic properties. You can use honey as a sweetener in place of sugars.
You may also consider the following for toppings; sweet potato puree, mashed potatoes, pumpkin puree, and apple sauce.
Related Questions
What Kind Of Flour is Recommended for Making Homemade Dog Cupcakes?
Flour is an essential ingredient in making your dog's homemade treat. Flour is used as a binding agent in both dog cakes and biscuits. However, you should be very selective about the type of flour you use in dog food because not all flours are good for your dog's health. For instance, white flour is commonly used in human food, but it is not healthy for your furry friend because it highly processed and has low nutrient content. Instead of using white flour, go for whole-grain flour because it is nutrient-dense and contains high amounts of digestible fiber. Below are some of the best flours you can use to make dog cupcakes.
Coconut flour
Potato
Lentil
Almond
Chickpea flour
Sorghum
Whole wheat
Barley
Buckwheat
Oat
Some dogs are sensitive to wheat. So, check what your dog is allergic to before choosing the right flour to use for making homemade dog cupcakes.
Related Post: 5 Best Flours for Dog Treat Recipes
Are Vanilla Cupcakes Safe For Dogs?
Most dog owners ask whether vanilla can harm their pups. Well, the simple answer is yes. While vanilla itself is harmless to your pooch, the alcohol present in the vanilla extract can harm your dog. This is especially true if you use vanilla in the frosting. Besides, vanilla is usually loaded with sugars. Too much sugar can cause obesity, diabetes, and other health issues to your furry friend. So, instead of vanilla, use other healthier ingredients when making dog cupcakes.
The Bottom line
As you can see, making homemade dog cupcakes is easy and straightforward. If it is your first time making homemade dog cupcakes, consider starting with the simple ingredient recipes that we have highlighted. Soon, you will be making dog cupcakes using all your pooch's favorite ingredients.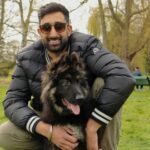 Sable McNeil is a canine chef, professional pet blogger, and proud owner of two male dogs. I have been an animal lover all my life, with dogs holding a special place in my heart. Initially, I created this blog to share recipes, tips, and any relevant information on healthy homemade dog treats. But because of my unrelenting passion to make a difference in the world of dogs, I have expanded the blog's scope to include the best information and recommendations about everything dog lovers need to know about their canine friends' health and wellbeing. My mission now is to find the most helpful content on anything related to dogs and share it with fellow hardworking hound lovers. While everything I share is in line with the latest evidence-based veterinarian health guidelines, nothing should be construed as veterinary advice. Please contact your vet in all matters regarding your Fido's health.