As an Amazon Associate, we may receive a small commission from qualifying purchases but at no extra cost to you. Learn more.
Dogs deserve treats every once in a while to feel alive and happy. For many of us with beloved furry friends, we like to order these treats online or buy them from the store. This is okay for the most part but how about making some at home?
For one, it will save you some coins but most importantly, you can rest easy knowing your pup is eating the right thing. With the over-commercialization of dog food, there's no telling what can be thrown in your pet's treat.
To help you make healthy meals and treats for your dog, we will highlight 3 homemade recipes for dog treats with rolled oats as well as tips to help you prepare this healthy snack the right way. The recipes are easy to prepare and incredibly yummy and healthy for just about any pooch.
Before we dig in, here are some basics:
Are Oats Good For Dogs?
Perhaps the first thing you should ask yourself before making a rolled oat recipe for your canine is if it is indeed good for him. The truth is that oatmeal is as good for your pup just as it is for you. However, there are a few factors that you should keep in mind before you give your pup this amazing snack. First things first, here are the main reasons why oatmeal is a healthy option for your dog:
Great source of proteins: Oatmeal is rich in plant-based proteins, which are excellent in supporting lean muscle development in dogs.
It is high in soluble fiber, which not only aids digestion but can also help regulate a dog's blood glucose levels. If your pooch is diabetic or has irregular bowel movements, he can benefit greatly from eating oatmeal treats and food.
Related: 10 Best High Fiber Dog Foods for Small Breeds
Ideal for healthy coat and skin in dogs: Oatmeal is rich linoleic acid (a type of omega-6 fatty acid in oats) and B vitamins, which are all known to be great for keeping your dog's skin and coat healthy and strong. This is why some of the best oatmeal shampoos for dry and itchy skin in dogs like Earthbath Oatmeal and Pro Pet Works Pet shampoos include oatmeal as one of the main ingredients.
It is recommended for overweight dogs because of its high fiber content, which helps dogs feel fuller fast, making them eat less throughout the day and ultimately lose weight.
It can be a good way to add more water into your canine companion's diet, especially if you add extra warm water to your dog's cooked oatmeal.
It is known to help boost the production of red blood cells in dogs.
Oatmeal is also a good alternative for dogs with wheat or grain sensitivity because it packs less gluten.
Precautions to Take When Feeding Your Dog Oatmeal
To get the most out of the amazing health benefits of oatmeal, there are a few factors that you need to keep in mind, including:
Avoid giving your dog raw oats because they are difficult to digest. Oats should be cooked before being served to dogs.
Moderation is key when it comes to feeding oatmeal to dogs. Go easy on the amount of oatmeal you give to your pooch. The same way you cannot consume too much food for fear of having a stomach upset is how you should treat your pup. Too much oatmeal can lead to vomiting, diarrhea, or bloating which can compromise the health of your canine companion.
Avoid using milk when preparing oatmeal for your dog since some dogs are lactose intolerant and may experience diarrhea, upset tummy, and other digestive issues. Instead, use water and don't add salt, sugar, or any other additive.
Avoid giving your dog instant oatmeal since they contain a lot of sugar, which isn't healthy for your pup. Some may pack other harmful ingredients like raisins and xylitol.
To prevent your dog from getting burned, allow any cooked oatmeal to cool down until it is safe for a dog to eat.
If possible, always give your dog organic oatmeal because they are nutrient-rich and healthier than non-organic options.
Oatmeal should never replace your pooch's main meals. Although this whole-grain offers plenty of benefits to dogs, it is still not complete as far as a healthy dog diet is concerned. So, use it as a snack or a meal topper—not as a meal itself—so that your pup can get all the nutrients that he needs.
When giving your dog oatmeal for the first time, start with small quantities as you assess his body's response to the new treat. Increase the quantity gradually if there are no abnormal symptoms. However, if he reacts negatively, consider discontinuing the meal and consult your vet for more professional advice.
Baked homemade treats with rolled oats ideas
1.Traditional Baked Rolled Oat Dog Treats
Ingredients
2 cups + ½ cup rolled oats
1 egg
½ cup low-fat, unsalted beef or chicken broth
½ teaspoon salt
Directions:
Preheat the oven to 3250C
Add the broth, egg and 2 cups rolled oats in a mixing bowl and combine well.
Throw in the remaining oats and combine them.
Pour the mixture over a wax paper and work your hands over it, kneading it until the dough becomes firm. Press it to about ½ inch thickness.
Cut it using a cutter and place the cuts on a baking sheet lined with parchment paper.
Bake for 20 minutes, remove the treats and let them cool to room temperature.
Pro Tip: You can store these in a ziptop bag inside your refrigerator or an airtight container for up to a week. Steer clear of any toxic additive such as sugar, flavors, and raisins.
2. Doggy Breath Mints
Ingredients
2 ½ cups of rolled oats
½ cup of finely chopped fresh mint
½ cup fresh parsley
1 large egg
¼ cup of water
3 tablespoons of coconut or virgin olive oil
Directions
Preheat the oven to 3250F
Add the oats to a blender and run it till they assume a flour consistency
Whisk the egg, water, mint, and oil in a large bowl
Add the oat flour and combine
Knead the dough for a few minutes then flatten it to a ¼ inch thickness
Cut out about 40 (1-inch) mints
Place them on a baking sheet lined with a parchment paper and bake until crispy and golden.
Pro Tip: Be sure to let the mints cool down before serving it. Store the mints in an airtight container.
Homemade dog treats with rolled oats no bake Ideas
1.Peanut Butter-Pumpkin-Oats Dog Treat
Ingredients
1 cup pumpkin puree
¼ milk
¼ cup peanut butter
3 cups of rolled oats (divided)
Directions
Beat the pumpkin puree, milk, and peanut butter on an electric mixer on medium-high.
Reduce the speed of the mixer then add the oats gradually until well incorporated.
Scoop the mixture into 1 1/2-inch balls and dredge them in the remaining oats until well coated (Norpro Stainless Steel Scoop is my all-time favorite tool for dishing up pet food).
Place them in a refrigerator for one hour or until firm.
Pro Tip: You can store your dog treats in a refrigerator or an airtight container for a maximum of one week.
Related Questions
Can I give my dog oatmeal every day?
The short answer is yes. You can but it is not recommended. Although oatmeal provides a lot of benefits to dogs, it is high in calories and carbs, which may not be healthy for your dog if he consumes a lot of it. Besides, many commercial dog food brands include oats in their formulations, so there are high chances that your pooch is already getting oatmeal in his diet. If that's the case, adding him more oatmeal doesn't make a lot of nutritional sense. As aforementioned, oatmeal should be given as a snack, treat, or a meal topper.
Can I feed oatmeal to puppies?
Yes. You can add oatmeal to your puppies' diets. However, avoid adding oatmeal to diets of puppies that are still nursing and weaning. Wait until they are ready to eat solid foods. And don't be tempted to give them a lot of it as too much oatmeal can cause diarrhea, vomiting, and other digestive issues in puppies as well.
Related: Top 10 Freezable Teething Toys for Puppies
Can dogs eat oatmeal and honey?
Well, they can but it is not healthy if they take a lot of it. While honey is safe for dogs, it packs a lot of sugar, which may be detrimental to your pooch's health. So, if you want to share oatmeal and honey with your dog, do it sparingly (in very limited quantities).
Can I give my dog oatmeal with cinnamon?
It is not reccomended. Avoid giving your dog any kind of flavored oatmeal as they contain a lot of sugar and may also have toxic artificial sweeteners like xylitol.
Can dogs have oatmeal cookies?
Yes, but it is not healthy for them as most cookies have high sugar content. Some cookies may also contain chocolate and raisins, making them unsafe for dogs.
Can Dogs Eat Oatmeal With Brown Sugar?
Brown sugar is not healthy for dogs. Instead of adding brown sugar to your dog's oatmeal, consider adding more healthy toppings like pureed pumpkin, banana, peanut butter, strawberry, or plain yogurt.
Conclusion
There you have it; three homemade dog treats with rolled oats. Make your way to the grocery store and give your pet a chance at a healthy and yummy treat.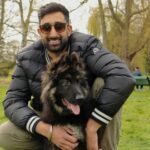 Sable McNeil is a canine chef, professional pet blogger, and proud owner of two male dogs. I have been an animal lover all my life, with dogs holding a special place in my heart. Initially, I created this blog to share recipes, tips, and any relevant information on healthy homemade dog treats. But because of my unrelenting passion to make a difference in the world of dogs, I have expanded the blog's scope to include the best information and recommendations about everything dog lovers need to know about their canine friends' health and wellbeing. My mission now is to find the most helpful content on anything related to dogs and share it with fellow hardworking hound lovers. While everything I share is in line with the latest evidence-based veterinarian health guidelines, nothing should be construed as veterinary advice. Please contact your vet in all matters regarding your Fido's health.