As an Amazon Associate, we may receive a small commission from qualifying purchases but at no extra cost to you. Learn more.
If you really love your dog and treats him as part of your family, it is natural to want to take him everywhere you go. However, taking your pooch on outings require some preparations. For instance, you should ensure that your dog is safe and comfortable when taking him dog on car trips. And to achieve this, you require more than a collar and leash—you need a good car seat to keep your dog safe and prevent him from feeling nervous while traveling.
But because pets have different styles of sitting and lying down, they require special seats to keep them secure and give the space to snug while in the car. Most dog owners prefer dog console car seats because they don't take extra space in the car. Besides securing your dog safely in the car, a console dog seat makes your pup feel comfortable and boosts his viewing experience.
What Is A Dog Console Car Seat?
A console dog car seat is simply a dog seat that can be attached to your car's center console. This implies that you can carry a passenger in the front seat and still let your dog enjoy a safe and comfy seat within a hand's reach of both you (the driver) and the passenger.
How It Works
Basically, the seat is meant to be strapped on the console lid of your car. Just like other dog seats, it is made of firm but comfortable foam that fits on most car consoles. It comes with two safety straps: an outer strap to keep it in place and an interior strap that can be attached to your dog's harness to prevent him from jumping out of the seat and interfering with your diving or peace of other passengers. There is also a grip at the bottom to prevent the seat from sliding off the console. Some console dog seat brands also feature raised backs for added comfort and security of your pooch.
How to Install a Car Console Dog Seat
Here is a nice video on how to install or uninstall a console dog seat on your car:
Why Do You Need A Console Seat For Your Dog?
Safety and comfort are the main reasons why dog owners buy car dog seats. But if you can get all these from a conventional dog car seat, why should you bother looking for a console seat? Well, here are the situations when a console seat makes more sense:
You Are Traveling With An Anxious Dog: Most anxious dogs get distracted during car rides, especially when their owners are out of their sight. They will try to pace back, pant back and forth, and even whine. A console seat gives such dogs comfort and some sense of security and safety.
You Want To Boost Your Pup's Viewing Experience: Most dogs enjoy looking out of the window when traveling in a car. However, small dogs are quite disadvantaged because their heights—they always have difficulties in catching a good glimpse of the outdoors. The positioning of a console seat helps your pooch enjoy the view of the outdoors comfortably and safely.
You Want To Keep Your Car's Interior Clean: Console seats for dogs can also help you keep the interior of your car clean from your dog's dirty paws, hair, and dander. Console seats also come in handy when you have a dog who likes to chew things. It protects your upholstery from damage in case your dog gets bored or nervous on the road.
Best Dog Console Car Seats
The Snoozer brand is famed for manufacturing top-quality and comfortable car seats and other pet accessories. The interior of this particular console seat feature lamb wool, which is ideal for generating enough warmth for your pooch when it is cold and keeping him cool when it is hot. The console seat also comes with straps to allow you to secure your dog to your center console and to keep him in place once he gets inside. The seat is as stylish as it is comfortable. It is available in a variety of colors, allowing you to choose the best color that matches your car interior décor. The seat also comes in a wide range of fabrics—from poly-cotton, quilted to vinyl fabric—so you can choose what suits you and your dog's preferences. Lastly, it is easy to clean because it has a removable cover which is machine washable and dryable.
If your pet loves being next to you during car rides, this is another great console seat that you should buy for him. This seat looks and feels good. The micro-suede cover, for instance, makes it stand out from the crowd by giving it a luxury feel. Like the previous Snoozer seat, it features a Sherpa interior lining to give your dog extra comfort and warmth, helping him to remain warm in winter. It features security straps to secure your dog safely while you are driving as well as non-skid bottom to ensure that your dog remains safe and in place even when you apply emergency brakes. Another unique addition on this seat is the high back design which provides more comfort and prevents your dog from jumping out.
For the ultimate comfort of your dog, this is another console seat from Snoozer that will never disappoint you. Its interior is made of synthetic wool, which provides an incredible softness that any pooch will love. To be honest, one reason why we had to include another console seat from Snoozer is its amazing design. It is designed to create a shelter-like feeling that your dog experiences in a warm dog crate. Installing the seat is also straightforward. You only need to place it to your console, connect the straps, have your dog jump in, attach the tethers and you are done.
Taking your anxious dog on a road trip should never worry you because Meago Dog Console Booster has your back. The product provides a plethora of benefits to make your dog as safe and comfortable as possible. To begin with, the seat features a safety belt and hook that can easily be attached to the console lid and your car seat base. All these allow you to strap your furry friend reliably on the console so that you can focus on the road. It is lightweight and will easily fit any kind of car console of a reasonable size. Lastly, the seat is easy to clean as the cover is removable and machine-washable.
This luxurious console seat is what you need if you want your pooch next to you at all times. The Sherpa lining gives your canine companion all the luxury and comfort that he needs. Like other console seats that we have reviewed in this post, the seat comes with safety straps top prevent your dog from jumping out of the seat. Besides comfort, this seat is spacious enough to allow your dog to sit down, stand, or lie down. Most dogs can stare through the window when sitting on this seat unless you own a toy breed which may require extra cushion to raise him higher a bit.
If you are looking for a console seat that will give your dog a memorable ride, then you will never go wrong with this elevated and comfortable dog seat from Pet Gear. It is constructed with a sturdy and durable material, so you can be sure that it will serve your pooch for long. It features a removable plush pillow for extra comfort as well as two safety straps that you can attach to your dog's collar or harness. Another thing we love about this console seat is the fact that it is easy to install. As you can see, the seat comes as a piece, which means that there is nothing to assemble. You simply need to put it on your center console, strap it in place and you are good to go.
When it comes to choosing the best console seat for your dog, it is critical to find a product that can put a smile on your face—a seat that you can trust to take care of your pooch. This is exactly what you get when you buy this console seat from kiwitatá. It features a safety belt and hook that safely attaches to your seat and the base of your car's console, keeping it anchored in place. The seat, therefore, keeps your canine friend safe and boosts his riding experience. Another thing we love about this seat is the fact that it doubles as a booster, giving your dog a perfect viewing experience. Lastly, the seat is waterproof, so you don't need to worry about funny smells from absorbed moisture. If you love to keep your car clean and organized, this is the console to go for.
Precautions to take when using Dog Console seats
To get the most out of a console dog seat, there are a few precautions that you should keep in mind, including:
As you tether your pup to the console seat, ensure that you attach the safety straps on his harness instead of the collar. The tensions on the collar may cause accidental chocking, which is rather unsafe to your dog.
Like any other pet-related device, it is advisable to train your dog to use the console, especially if it is his first time. To make the console seat a worthwhile purchase, you should ensure that your pooch is willing to use the seat consistently. One of the best ways to do this is to gradually increase the amount of time that your dog spends on the new seat. This will make him not to associate the console seat with dreadful car rides.
Factors to Consider When Buying a Dog Console Car Seat
A good console seat for dogs should have a few critical features. Here is what to keep in mind when choosing one:
Pick The Right Size
Generally, console dog seats are designed for small and medium dogs. Although some consoles may be bigger, most of them are built to accommodate small dogs. Before purchasing these seats, therefore, keep in mind the size of your dog. If it is too small for your dog, it might be uncomfortable and unsafe. The perfect seat should allow your dog to sit or lay down comfortably.
Another important factor to remember is the fact that cars have varying center console dimensions. So, it is important to measure the dimensions of your car's center console before ordering a seat lest you end up with the wrong size.
2. Safety Features
A console seat that is not safe for your dog is not worth your time and money. Choose a console seat that can be securely attached to your center console and front seats and is able to handle your dog in place tightly. Most of the best models come with a lot of built-in security straps to keep the seat secure.
3. Materials, Design, and color
Like any other pet or car accessory, before you buy a console seat, ensure that it is aesthetically appealing to you and your family. If it clashes with the interior décor of your car, you are less likely to use it. On the flip side, if it blends well, you and your pooch will love it and you are highly likely to keep it in the car for long. Most dogs will also love their console seats if they come with extra padding for comfort. So, ensure that the seat has padding or other comfort features. Most importantly, ensure the seat is made of durable materials that can be cleaned easily.
4. Does It Provide Excellent View?
Not all dog console seats are designed to add height. Some console seats are only designed to secure your dog and keep him safe—nothing more! On the other hand, some console seats not only keeps your dog safe but also add up to 10-15 inches of height, giving your pup a clear view of the window.
5. Extra Features
Besides the key features listed above, it is important to choose a dog console seat that comes with extra bonus features such as extra security straps and extra storage compartments for storing your dog's treats and supplies.
Conclusion
A dog console car seat is an excellent option if you want to take your beloved canine friend to occasional road trips but don't want to get distracted while driving. The seats not only secure your pup safely in the car, but also make him feel comfortable and improve his viewing experience. Boost your dog's happiness and safety with a new console seat today! Make your next road trip with your canine companion enjoyable and memorable.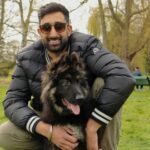 Sable McNeil is a canine chef, professional pet blogger, and proud owner of two male dogs. I have been an animal lover all my life, with dogs holding a special place in my heart. Initially, I created this blog to share recipes, tips, and any relevant information on healthy homemade dog treats. But because of my unrelenting passion to make a difference in the world of dogs, I have expanded the blog's scope to include the best information and recommendations about everything dog lovers need to know about their canine friends' health and wellbeing. My mission now is to find the most helpful content on anything related to dogs and share it with fellow hardworking hound lovers. While everything I share is in line with the latest evidence-based veterinarian health guidelines, nothing should be construed as veterinary advice. Please contact your vet in all matters regarding your Fido's health.