As an Amazon Associate, we may receive a small commission from qualifying purchases but at no extra cost to you. Learn more.
Being a pet parent is a big responsibility. And with today's hectic schedules, it is very easy to forget feeding your pet on time, especially when you are stuck in traffic, running late for work, or taking kids to school. WiFi pet feeders are the perfect solutions for people with such hectic schedules or those who spend a lot of time outside their homes. These little handy devices can help you keep watch of your pet when you are away from your house, ensuring that they are getting food and water on time. With a WiFi dog feeder, for instance, you can schedule mealtimes for your pup and deliver portioned amounts of food at set intervals. This way, you can control your dog's diet while ensuring that he is fed regularly and on time.
What is a WiFi Dog Feeder?
These are automatic or smart feeders that allow you to schedule meals and feed your pup remotely—or when you are away from home. As their name suggests, the feeders feature WiFi connectivity capabilities, allowing you to connect them to apps on your phone. Through the apps, you can schedule your dog's meal plan seamlessly on your phone.
Some of these feeders also come with additional features to make your meal scheduling endeavors easy, including but not limited to:
Cameras: To help you spy on what your dog is up to at any given time.
Portion Controls: To help you calculate or key in the exact portion size your pup needs based on parameters like breed, size, age, etc
Built-In Microphone and Speakers: To help you have a chat with your dog throughout the day.
Eating Pattern Sensors: To let you know the amount of food your dog has eaten. This can help you detect if your dog is under-eating, which can be a sign of a health issue.
Why You Need WiFi Dog Feeders
Upfront, pet tech may be pricey—some WiFi-enabled dog feeders are going to cost you a bit, but there are a lot of benefits that you stand to gain when you get one for your canine buddy:
Peace of Mind: With our busy schedules, it can be a challenge to ensure that our dogs are getting their meals consistently. WiFi pet feeders give you peace of mind knowing that your dog will be fed on time—whether you are away from home.
Ensures Proper Weight Management: Overfeeding can lead to several health risks in dogs, including diabetes, kidney diseases, heart, and respiratory diseases. WiFi-enabled dog feeders that come with portion-control features can help you avoiding overfeeding issues by giving your dog portioned feedings that he needs.
Full Control: Having a WiFi pet feeder allows you to set pet care routines with your phone. Besides the ability to feed your dog using your phone, you can watch your dog's activities and even talk to him when you are away from home.
Keeping Your Dog Busy And Entertained: Some WiFi feeders come with voice recorders that allow you to record customized messages for your pet. This implies that you can always keep your dog busy and entertained even when you are away from home.
Best WiFi Dog Feeders: Our Top 12 Picks
Here we've compiled a list of the best WiFi pet feeders on the market right now so that you can continue to spoil your furbaby even when you can't be with him.
Feeding time is often touted as one of the best opportunities for dog owners to bond and create connections with their pets. But taking advantage of this fact can be a challenge when you are away from home and using a standard automatic feeder. Fortunately, WOPET SmartFeeder has a solution for you.
The feeder features an HD camera for video and voice recording, so you can see, talk, and play with your dog any time you deem fit even while you are away. You can even share your best moments with your pet via the audio chat/recording functionality. This offers a nice personal touch for your furry friend as he will rest easy knowing that you care for him even when you are away. It comes with two tray sizes—small and large—to allow you to choose what suits your dog best.
To ensure that you can control your dog's body weight or help your pup establish good eating habits, the feeder features a unique portion control capability. It allows you to dispense food in 10-gram portions, so you can choose between one and 39 food portions per meal. However, it is only suitable for dry food, needs to work 2.4GHz frequency WiFi, and only compatible with Android 4.0 and iOS 7.5 and above.
If you are looking for a 'smart' approach to scheduling your pup's meals, then your search should end with DOGNESS Automatic WiFi Feeder. Backed by a reputable brand name, large capacity, rave customer reviews, this feeder is, without any doubt, one of the well-featured devices on the market. It comes with a built-in IP camera and a voice recording feature to help you keep tabs with your dog. Another feature we fell in love with is the feeder's humanized design. It has a unique locking lid to prevent unauthorized access—whether by pressing the manual button or knocking its top off. You can control the portion that is dispensed every automatic feeding session, allowing you to prevent overeating. The feeder also comes with two power supply: power adapter and battery, so you will be able to plug it normally into your electrical socket but still have a battery backup in case the power goes out.
If you always get worried buy your doggo's rumbling belly when you travel or working overtime, you may appreciate the amazing features of this Petsafe's smart automatic dog feeder. It's packed with a lot of features, including Wi-Fi connectivity and amazing scheduling options. The scheduler allows you to set up to 12 meal times and specify the amount of food to be dispensed.
Additionally, the feeder comes with a slow feed option, which can portion out small food quantities over 15 minutes. This makes it perfect for dogs that tend to wolf down their foods fast. The feeder also features a battery backup, so you can put 4 D-cell batteries to ensure that it still operates even if there is a power outage in your area. Finally, it is easy to clean as the lid bowl, lid, and bowl holder are dishwasher-safe.
One manufacturer that is doing everything they can to bring automatic dog feeders into the 21st century is PETKIT. The level of control and customization that they have added to this feeder is unmatched—it is WiFi-enabled, it can work with Amazon Alexa, and connect with Android and iOS apps. You can schedule up to 10 feedings and once you set your pup's meal plan, the feeder will work even when the WiFi is off. So, you don't have to worry if the WiFi is off or not responding because your dog will still be fed the next scheduled meal. Another unique feature that makes this feeder stand out from the crowd is the Feed Now feature, which allows you to feed your dog anytime. The feeder also features a weight sensor, which can detect if the food bucket is running low. So, you will always get notifications when the food bucket is empty—so convenient!
One of the most amazing features of this feeder its fully customizable scheduling feature. You can program meals, select portions (from 1/16 cup up to 11/2 cups), feeding times, and speed at which each meal will be dispensed. You can also feed your dog several times a day depending on how you program the feeder.
And if you are not sure about the amount of food that's best for your dog, you can utilize Petnet SmartFeeder's software to calculate or get suggestions for the best food to give your dog based on his nutritional needs, thanks to Petnet iOS Apps' huge pet food database. It comes with a backup battery that lasts up to 7 hours as well as a secure lock lid with a twist-open mechanism.
Here is another excellent WiFi dog feeder for any dog parent on the go. With the capability to schedule mealtimes and feed your pup from anywhere, you will be happy to have this amazing feeder at home. The feeder allows you to schedule up to 8 meals a day or trigger remote feedings via their app. To ensure that your canine buddy eats healthy, the feeder doles out10-gram portions, so you can choose between one and 20 food portions per meal. Like many other WiFi-enabled feeders we have reviewed so far, this feeder features a voice recording capability to allow you to record customized messages and play them when feeding your dog. This can go a long way in helping you eliminate anxiety as you can always play the recording to prove to your dog that you are with him. Another great feature of this product is the dual power sources. It can be plugged into an electrical socket but still comes with a battery backup in case there is a power outage.
LeeKooLuu WiFi Smart Feeder is another clever little product that will not only dispense food for your pup, but also feed your pup remotely via your mobile phone. With its iOS and Android compatible Smart Life app, you don't have to be home for this feeder to do its magic. You can schedule meals and customize portion size based on your dog's size, age, and activity level, all via your smartphone. It has a spacious storage capacity of 6L to allow you to store enough food that can feed your pup for many days between refills. It doles out 10-gram portions and can allow you to portion 1 to 10 portions per meal. Finally, the feeder features a 1080P HD CAMERA with night vision capabilities as well as a voice recorder, which means that you can check on your pup throughout the day and night. The voice recordings, videos, and photos that you can also be stored in your Smartphone automatically—very techy and convenient!
This is another great Wi-Fi-enabled auto feeder that allows you to set up to 4 meals in a day with each meal having 1-39 portion control. One of the most unique features of this feeder is its advanced infrared detection technology that prevents your dog food from spilling and getting stuck in the hole. Additionally, the feeder comes with a voice recorder that can record customized messages or voice for 12 seconds. Plus, the feeder has a leak-proof reservoir, so your dog food remains fresh for long.
As a responsible pet owner, your cortisol level will always rise when it dawns on you that your pup has not been fed. With Peteme Automatic Feeder, you don't have to worry or feel guilty of disappointing your pup as you can feed him anywhere and anytime via the Smart Life app. The feeder is also designed to work with Alexa, allowing you to personalize your pup's feeding times at the click of a button. You can even share the app with your family and friends and let them help you manage the feeder when you are not around. Most importantly, the feeder comes with time-saving and offline memory feature which allows it to work normally whether it is online or offline—how reliable and convenient? You can schedule up to 6 feedings a day with 1 to 10 portions per meal.
Another excellent WiFi dog feeder that will help you feed your pup remotely is this automatic feeder from FEED'EM. With a capacity of 4.5L, you can schedule up to 8 meals a day and adjust portion size to cater to your dog's needs. It comes with 3D batteries for backup in case of a power outage in your area. There is also a WiFi backup capability, so if the feeder loses connection, the food will still be dispensed at the scheduled times. Finally, the feeder comes with the capability to record audio greetings that can be played whenever food is delivered to your dog. However, the feeder lacks a camera.
If you are looking to feed your dog remotely and directly from your Smartphone, this is another Wi-Fi-enabled auto feeder that will change the way you care for your furry friend. You can automatically schedule feeding times or do it manually via your phone whenever you feel that your dog needs to eat. With food portioning capability that ranges from 10g to 100 grams, you can easily control the amount of food that you give to your dog every mealtime. The feeder also comes with a front camera for recording every movement of your dog. It is compatible with both iOs/Android devices and comes with a camera to help you see your dog's behavior in real-time.
Last but not least is this well-featured automatic feeder from Feastoria. We had to include this feeder on our list due to many amazing features (besides WiFi connectivity) that blew us away during our review. To begin with, it features automatic detection and controlled feeding system, which can stop dispensing food if it detects that there is excess food in the feeding tray. There is also a 1080p HD camera that not only allows you to watch your pup's activities remotely but also see the amount of food left in the feeding tray to ensure more precise and flexible meal plan for your dog. Feastoria also comes with an in-built voice recorder and speaker that allows you to record customized messages to be played as the food is dispensed or when your pup is feeling lonely. And if the mentioned features aren't enough, there is a switch on the top cover to prevent your dog from clawing out more food, eliminating overeating temptations.
Most Important Features to Consider When Looking For the Best WiFi Dog Feeders
Here are some of the features you should keep in mind when shopping for a WiFi feeder for your dog:
WiFi Control
Not all automatic dog feeders come with WiFi control or connectivity. So, the first thing to check when buying a pet feeder that can allow you to check on your pet remotely and receive notifications of his activities when you are away from home is whether it features WiFi controls.
User-Friendly Apps
Considering that you will be scheduling your dog's mealtime and doing other pet care control functions via your phone, it is important to choose a feeder with user-friendly apps. Some apps may look cool in their design but lack a lot of vital features. Choose a feeder with an app that is not only easy to use but also includes resourceful functionalities.
Camera and Audio Functionalities
Even when their favorite treats are put in front of them, the neediest dogs will still be hesitant to eat without hearing the voice of their owners. This is where audio functionalities come in handy. A pre-recorded voice can comfort such dogs and persuade them to eat their foods when the owner is away. We suggest choosing a feeder with two-way audio to allow you to listen to your dog's voice as well.
You should also choose a WiFi dog feeder with HD camera. With such a feeder, you can take photos of your pup at any given time and spy on their activities to avoid potential unwanted occurrences.
Corded vs. Cordless
It is also important to pay attention to how the feeder is powered. Generally, WiFi pet feeders are either corded or cordless. The latter is designed to ensure that your pup is fed even when electricity is out. You also don't need to worry about the feeder getting unplugged should your dog become naughty. However, their batteries may not last longer than three days. So, they can be a bit nuisance when you are on a long trip.
FAQs
Q. How do I connect my dog feeder to WiFi?
A. Well, it depends on the dog feeder brand that you've purchased. Every manufacturer gives steps that users can follow to connect to their feeders to WiFi. Consider checking your user manual for precise directions to follow. Alternatively, check a few YouTube videos online for ideas.
Q. Will the feeder work when there is no WiFi connectivity?
A. Yes. The feeder will still work without WiFi. WiFi connectivity only allows you to set or program the feeder. After that, the settings are saved in the feeder and the servers hosting the app. Provided that the feeder is on, it will still follow the settings even if there is no WiFi. So, the only thing to worry about is power. Always ensure that your feeder is plugged in or have charged batteries.
Q. Do I need to connect to my WiFi network for the feeder to work?
A. No. Once the feeder is connected to your WiFi network, you can control it remotely. So, you don't have to be connected to your WiFi network. You can access the app through any data network. However, if you have a feeder with HD camera, expect the video to be a bit slow when your WiFi network environment is weak.
Q. Is it possible to pair the feeder with my family members' phones?
A. Yes. Just like other home appliances with WiFi or Bluetooth connectivity, it is possible to connect the app that comes with your feeder to multiple phones. So, even if your phone is off, a family member can still help schedule meals for your pup.
Conclusion
So, which WiFi dog feeder seems right for your four-legged friend? Essentially, the feeders we've listed are all great choices for most dogs. But every product has its own upsides and downsides, so it advisable to prioritize your dog's needs and your personal preferences when choosing a dog feeder. Whatever feeder you choose, rest assured that your pup will benefit immensely from the extra love and attention that he gets even when you are away from home. Good luck in finding an excellent feeder for your lovely pooch.
Last Updated on December 29, 2020 by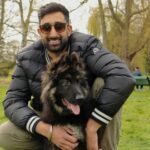 Sable McNeil is a canine chef, professional pet blogger, and proud owner of two male dogs. I have been an animal lover all my life, with dogs holding a special place in my heart. Initially, I created this blog to share recipes, tips, and any relevant information on healthy homemade dog treats. But because of my unrelenting passion to make a difference in the world of dogs, I have expanded the blog's scope to include the best information and recommendations about everything dog lovers need to know about their canine friends' health and wellbeing. My mission now is to find the most helpful content on anything related to dogs and share it with fellow hardworking hound lovers. While everything I share is in line with the latest evidence-based veterinarian health guidelines, nothing should be construed as veterinary advice. Please contact your vet in all matters regarding your Fido's health.