As an Amazon Associate, we may receive a small commission from qualifying purchases but at no extra cost to you. Learn more.
Whether you are home or away, you need to ensure your adorable canine buddy gets his food and water on time.
You could hire a sitter to do the job for you when you are away or just use a gravity feeder and waterer.
The second option is much more convenient and easier on the wallet. All you have to do is fill the feeder up with food and water and let it dispense the items in bits so your pup has sufficient food and water round the clock.
These handy pet feeder/water stations are designed to use gravity to automatically fill your dog's feeding tray or drinking bowl with the right amount of food and water.
As food in the feeding tray runs low, the food storage reservoir automatically releases more food down into the bowl.
When the dish is full, the reservoir will not release more food as the food will be backed up in the reservoir, preventing further flow.
Similarly, the water instantly replenishes water in the drinking bowl from its water-reservoir bottle above.
To fill the feeder, all you need to do is unscrew their top lids and pour the right amount of your dog's favorite dry food into the food storage hopper.
And to fill in the waterer, you simply need to tip it upside down, pour clean water in the bottle's wide mouth, attach its base, and tip it right side up.
Who should get a Self-Dispensing Gravity Pet Feeder and Waterer?
These food/water stations are:
A. Suitable for:
Dogs that love eating whenever they please
Dog owners who live in areas that experience frequent power outages
B. Not Suitable for:
Dogs that tend to overeat or those with weight issues
Dog parents who prefer to plan the feeding schedules of their dogs as the dog has constant access to the food—instead of just mealtime access.
Best Self-Dispensing Gravity Pet Feeder and Waterers: Our 10 Picks
Like any other doggie product, the market has plenty of self-dispensing gravity pet feeders and waterers.
So, how do you know which one is the best fit for you?
Well, to make your work easier, here is a quick review of the best self-dispensing gravity pet feeders and waterers in the market right now.
TheVaygWay Gravity Pet Feeder and Waterer is a premium product in the market currently.
It is made with a plastic material that is non-toxic and impressively long-lasting.
Its design is not accidental. The cuts on the side are there to give you a grip so that transporting the feeders becomes easy.
For more convenience, the feeder can be easily detached and cleaned, or refilled.
Provided the plastic gallons have food and water, your little rascal will eat and drink to his fill even without your presence.
Leaving your dog alone at home for a while? With Bergan Gourmet Gravity Dog Water Bowl and Feeder, you are guaranteed he will have some food and water at all times.
This dog feeder is made in the USA. So, best believe it is quality construction.
It has a maximum capacity of up to 6 pounds of food and the feeder; 1.5 gallons of freshwater.
We love the wide opening of the feeder top because it makes the process of refilling very easy.
This product also has a lid used to prevent spilling and splashing.
The standard feeder is ideal for medium-large canines but you can order petite dimensions if you have a toy breed.
The AmazonBasics Gravity DogFood Feeder and Water is an affordable yet highly functional product on Amazon.
The hopper is transparent and hence you will always know when it needs a refill.
Its capacity is 12 pounds of dry food, which should be enough for a day or so.
The feeder design is very user-friendly. It has side handles to offer convenience when moving the feeder from one location to another.
Cleaning it is also a breeze. Finally, this feeder features non-skid feet to ensure its stability.
Gravity feeders offer a hassle-free technique to feed your furry friend without you being present physically.
Each tank of the Fairy Tale Pet Feeder holds a maximum of 3.8 liters of freshwater/ food. This is more than enough food and water to last 3 days if you have a big dog and a full week for a small breed.
The design of the feeder promotes convenience during transportation, disassembly, and cleaning.
The best part about it is that the feeder utilizes a dog-safe and environmentally-sound material for construction.
The Petsafe Healthy Pet Self-Dispensing Gravity Food or Water Station is made with BPA-free plastic that is sturdy and durable.
Its bowl is a stainless-steel construction meaning it is very hygienic for your dog.
The feeder comes in three different sizes: small, medium, and large.
No matter the size of your dog, you will find the right one that gives him enough food and water round the clock.
The bonus benefit of this feeder is its ease of cleaning. With a simple twist, you can easily separate the top and bottom bits.
The plastic top is securely held in place so your dog doesn't knock it over.
This water and feeder dispenser from Meleg Otthon is another wonderful gravity feeder to have if you are going for a trip and leaving your pup behind.
With a capacity of 3.8 liters, it is sufficient for small to giant breeds. You can leave home for days without being concerned about whether your pet is hungry or thirsty.
The hopper is transparent, so you can always tell if it needs a refill or not.
This feeder comes with a non-slip base. It can withstand some push and pull without falling over.
It is also made with a food-grade plastic material that is quality and durable.
Constructed with food-grade plastic, the Happycat Pets Gravity Food and Water Dispenser is durable, non-toxic, and sturdy.
The package contains both the water dispenser and the feeder, so your pup can get access to both when he desires.
Both can hold up to 3.8 liters of food/water, so it is large enough for a dog of any size.
To clean the feeder, all you have to do is separate the chassis and barrel and rinse the whole thing in water.
It doesn't have any electric or moving parts, so it is absolutely okay to clean every part of the feeder.
The Zcaukya Gravity Feeder and Water Dispenser is a cute gray-colored feeder set proven to make food available for your pet all day.
The material of construction is food-grade plastic which is 100% safe for your lovely pooches. It is equally durable and will stand the test of time.
When you order the product, you will get a feeder, dispenser, 10 pieces of antiskid mats, one brush, and one spoon. These are all the things you need to give your dog enough food to last him a few days.
Cleaning and storing the feeder is also very easy.
Like most products on this list, the Old Tjikko Feeder has a maximum capacity of 3.8L.
This is wonderful news for pet parents with big breeds. Regardless of your pup's appetite, this should be enough food and water for a few days.
This means you can leave your pet alone knowing he will have plenty of food and drink until you get back.
Assembly and disassembly of the product is as easy and straightforward as cleaning it.
You don't need an expert to separate the hooper and bowl and clean them for you.
Just by looking at the URWOOW Pet Feeder and Water Dispenser, you can tell it is a quality and durable construction. This is because it is made with PP plastic which is pet-safe and non-toxic.
It has a capacity of one gallon and is sufficient for two small dogs.
Depending on their appetites, you may need to do a refill every four to six days.
To clean it, simply twist the dispenser to unlock it from the bowl then clean both of them with soap and water.
Thanks to its compact design, this feeder can be used in small apartments.
Most Important Factors To Consider When Buying Self-Dispensing Gravity Pet Feeder and Waterer
Food/water reservoir
A good pet food/water dispenser should come with enough space to hold a sufficient amount of food/water.
Choose a product based on how much your dog needs in a day.
Some feeder reservoirs are spacious enough to hold 2-3 day's worth of pet food or water. These are the best options if you have larger dog breeds.
Material of Construction
Strong materials of construction like metal or strong plastic can go a long way in preventing your dog from chewing the feeder when no one is around.
Remember that an anxious dog can chew anything in his space, so beware if your pup has this behavior.
On the flip side, feeders made of poor quality materials can break even from normal tear and wear.
So, always ensure that the feeder/waterer you choose is constructed with strong, quality materials so that it serves your pup for extended periods.
Ease of cleaning
From time to time, you will need to dismantle and clean the food/water dispenser to prevent food particles from getting clumped up.
To make your work easier, it is important to choose a feeder/waterer with parts that are easier to clean.
A dispenser with a stainless-steel bowl, for instance, is easy to clean and often resists stains from food.
Dishwasher-safe bowls and parts will make the cleaning process more convenient.
Ease of assembly
If a pet feeder/waterer is too complex to use, there are high chances that you are not going to use it to its full potential.
So, always consider choosing an option that's simple enough for you to set up.
Extra Features
While it is not a necessity, some self-dispensing gravity pet feeders and waterers come with extra features for added convenience, including:
Scale/Calculators: To help you calculate the exact portion of food your dog needs.
Filters: To remove dissolved impurities from water, ensuring supply of clean, fresh water to your dog.
Antimicrobial coating on the food/water bowl to prevent the growth of mold or odor-causing pathogens on one surface of the bowl over time.
Conclusion
A self-dispensing gravity pet feeder and waterer is a must-have item for pet parents who take long trips away from home.
It is designed to release food and water slowly so your pup always has something to eat and drink.
Choose one product from the list depending on the size of your pup, cost, and your taste.
Last Updated on February 8, 2022 by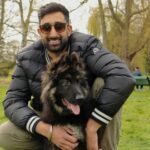 Sable McNeil is a canine chef, professional pet blogger, and proud owner of two male dogs. I have been an animal lover all my life, with dogs holding a special place in my heart. Initially, I created this blog to share recipes, tips, and any relevant information on healthy homemade dog treats. But because of my unrelenting passion to make a difference in the world of dogs, I have expanded the blog's scope to include the best information and recommendations about everything dog lovers need to know about their canine friends' health and wellbeing. My mission now is to find the most helpful content on anything related to dogs and share it with fellow hardworking hound lovers. While everything I share is in line with the latest evidence-based veterinarian health guidelines, nothing should be construed as veterinary advice. Please contact your vet in all matters regarding your Fido's health.