As an Amazon Associate, we may receive a small commission from qualifying purchases but at no extra cost to you. Learn more.
When winter comes by and the temperatures dip, most pet owners choose to keep their pets at home where they can be warm round the clock. Going outdoors can be quite unforgiving for the poor canine buddy. However, you don't have to leave your dog behind when going to the beach or taking a winter excursion during the cold weather. All you need is a comfortable, warm, and reflective winter coat for your furry friend. With the right one sitting on his body, you can both enjoy being out and about—for a number of good reasons:
Your Pup Stays Warm
Yes, this seems fairly obvious: all dogs will benefit if there is some sort of a windbreak or cover to block the direct brunt of the wind, snow, or rain. But it makes more sense if you have an elderly or sick dog that may have trouble keeping his weight on during cold weather due to the need to burn extra calories to keep warm. Having a horse blanket on such as dog will ensure that he stays warm and doesn't have to exhaust his calories to keep warm in cold weather.
Keeps Your Fido Dry
This goes hand-in-hand with the warmth factor. Dog parents who live in very cold regions prefer to keep horse blankets on their dogs when it is forecasted that the weather will be really wet and cold. They do this to keep their dogs dry. If your dog stays dry, there are high chances that he will stay warm. On the flip side, if he gets wet and he doesn't have a thick protective layer of sebum, he will definitely get cold. In short, if you can keep your dog dry, you will have made a significant progress in keeping him warm during the cold winter months.
May Come in Handy When You Shave or Trim Your Dog's Coat
If you have recently shaved or trimmed your dog's coat, he may not have enough insulated coat as his counterparts with natural, unshaven coats. A dog winter blanket will help him keep warm and dry during winter months.
Best Horse blankets for dogs: Our Top 10 Picks
Like any other doggie item, there are a lot of horse blankets in the market and choosing a good one can be a bit confusing. To ensure that you get the right product for your canine friend, we scoured the internet for the available winter horse blankets for dogs and came up with a conservative list of ten of our favorites.
As the name suggests, the Fashion Pet Horse Blanket for Dogs is fashionable winter apparel for your pup. Not only is it practical but it gives you an opportunity to make a bold style statement via your lovely pup. The material of construction, rib-stop fabric, is waterproof and wind-resistant. Whether the weather is rainy or windy, your dog will stay dry and warm the whole time. The vest is padded and lined to enhance safety. With heavy twill binding metal buckles on the neck and belly, it is easy to get a snuggly fit.
The BSEEN Dog Jacket is made with high-quality silk to ensure good thermal insulation from extremely cold environments. It is also a very comfortable material. The vest features a belly and neck adjustable magic buckle to make it easy to get a good fit while the water-resistant layer will keep moisture away from your pup. For a pet owner with a sense of fashion, this coat is definitely a worthwhile investment. Everything about it makes a dog stand out from the crowd. Cleaning is also a breeze. Simply throw it in the washer! The coat comes in a total of 6 colors to choose from.
With a rating of 4.7 out of 5 stars on Amazon, the Derby Originals Horse Blanket is an amazing product for a pet owner. It was typically designed for a horse and thus features a sturdy design. Whether you are going out in mild or severe freezing conditions, the nylon coat will keep your pup warm and toasty. It comes with a double Velcro closure and shoulder gussets as added security features. Despite being waterproof, this product is breathable and super comfortable.
The Carhartt Chore Coat is a good outfit to have on hand when going to windy and high-altitude places. It is made with a tough firm-hand duck canvas material and quilted nylon lining to ensure solid protection from the elements. It is also water-repellent, lightweight, and warm making it perfect for windy environments. The tabs at the chest and neck enhance convenience when putting it on and taking it off. There are two rivet-reinforced pockets with the Carhatt label to help you store your pup's accessories. With a corduroy collar, you can enjoy easy collar access.
Being outdoors with your pooch during the winter season can wreak havoc on his body. Why not shield him from the cold using this unique and effective winter coat from Hurtta? The coat is designed to protect his key muscle groups from the cold. Thanks to the high tricot hood, both his neck and ears will stay warm. Perhaps the most important benefit of this jacket is the reflective coil that is fitted to reflect a dog's heat which is used to warm up the jacket. High-visibility reflectors also ensure he is safe at all times.
Your dog deserves a blanket that keeps him warm during the cold weather while still making a fashion statement. The Weatherbeeta Parka Dog Coat ticks both boxes. You have a total of five beautiful options to choose from, all with a reflective strip and a super-strong triple outer. This means it is easy to spot your pup even when the sun has set. The polyester lining is both breathable and waterproof. No matter the elements, your dog will stay dry and warm. We also love the fact that the coat comes with added features such as a large collar with a leash hole and a full wrap chest. Please note that this product is not ideal for dogs with narrow chests.
The PETCEE Waterproof Dog Coat comes in all sizes (extra small – 5XL) and can accommodate all breed sizes. It is also fitted with adjustable Velcro straps and features an elastic design to ensure a good fit for broad-chested dogs. The exterior is made with polyester of different colors and filled with a soft fleece. This makes the coat warm and waterproof. Finally, you have a leash hole to insert the leash.
Reversible coats add functionality and style to a dog's apparel. They also make cleaning much more convenient. This reversible dog winter coat from PUPTECK features a fashionable plain fleece layer and a waterproof layer. Switch between the two depending on the weather conditions and your fashion needs at the moment. This dog coat is lightweight and comes with Velcro closures for securing a snuggly fit. The back also has a reflective paw print for added security at night and a tiny accessory pocket for storage purposes. PUPTECK is available in three color options: green, orange, and red.
The TOPSOSO Dog Winter Coat has a waterproof lining that works best in conditions of light rain and wind. Underneath the waterproof lining is a fleece fabric whose main function is to keep your pup warm. When walking with your dog at night, you can let him run wild knowing you can always spot himr through the jacket's reflective strip. The coat comes with an adjustable belt so you can secure a snuggle fit for your pet. Last but not least, this outfit can be worn both ways. It is available in small to XX-large sizes and 7 bright colors.
If you have a pup with a contoured shape such as a Lurcher, Whippet, or the Greyhound, you need a winter designed with him in mind. The Pethiy Waterproof jacket is made with a shape that fits perfectly on such as pup. The jacket has a tough outer fabric and a fleece lining to ensure durability and warmth respectively. With a reflective lining, you can easily keep a close eye on your dog. The coat is also machine-washable and easy to store. It comes in small-XX large sizes and fur colors.
Potential Hazards of Horse Blankets for Dogs
There are a few potential hazards that you should be aware of if you decide to use horse blanket dog coats on your dog, including:
Chewing
Some dogs are known to be heavy chewers and will chew any type of clothing on their body or anything in their space. This can be frustrating, especially if you've spent your hard-earned cash to buy a special blanket for your pup and after the first day, it is torn into pieces. It also a choking hazard because a ripped blanket is easier for some dogs to gulp down.
Getting tangled
Your dog can get caught in leg straps and fasteners of these blankets. So, whenever you decide to put horse blankets on your dog, ensure that they are in good conditions and the straps are adjusted properly to prevent them from shifting.
Breathability issues
If you choose a horse blanket dog coat that's not made with breathable fabrics, your pup can sweat underneath and become uncomfortably wet. Besides, if you leave the blanket on your dog until the weather turns mild, your dog can get uncomfortable. Choose a blanket that is breathable or one with layers that can be used separately. It is also important to go for properly fitting blankets as a poorly fitting option can cut your dog's skin.
Expert Tips
To ensure that your dog gets the most out of his horse blanket, consider using the correct weight for the temperatures that your pup will be facing. If it is 10 degrees below zero outside, your pup will benefit from a heavy blanket but if it is 5-10 degrees outside, a lightweight blanket will suffice.
If you live in cold areas or deal with wet weather often, we suggest buying two blankets. If one becomes saturated, your pup will still have an extra piece to keep him warm while the other dries out. Allowing your dog to wear a wet blanket is worse than not putting on any blanket at all.
Final Thoughts
If your dog seems cold, probably he is. Not all dogs will react to cold weather the same way. Puppies, senior, thin-coated, and sick dogs will probably feel colder. Horse blankets for dogs offer the best way of keeping dogs warmer during cold winter months. They also make dog ownership a fun and rewarding experience—no feeling beats the peace of mind that emanates from knowing your four-legged buddy is warm during the cold weather. The blankets also make it easy to have fun during a camping trip, mountain hike, or any other outdoor activity.
Last Updated on February 23, 2021 by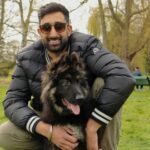 Sable McNeil is a canine chef, professional pet blogger, and proud owner of two male dogs. I have been an animal lover all my life, with dogs holding a special place in my heart. Initially, I created this blog to share recipes, tips, and any relevant information on healthy homemade dog treats. But because of my unrelenting passion to make a difference in the world of dogs, I have expanded the blog's scope to include the best information and recommendations about everything dog lovers need to know about their canine friends' health and wellbeing. My mission now is to find the most helpful content on anything related to dogs and share it with fellow hardworking hound lovers. While everything I share is in line with the latest evidence-based veterinarian health guidelines, nothing should be construed as veterinary advice. Please contact your vet in all matters regarding your Fido's health.