As an Amazon Associate, we may receive a small commission from qualifying purchases but at no extra cost to you. Learn more.
Just like humans, your furry friend can't resist a delicious treat. Getting your canine friend delicious biscuits is, therefore, the perfect way to show your love to your pup. And that's why dog biscuits are extremely popular among conscientious dog owners who understand the significance of dog treats that are both tasty and healthy. Contrary to what most people believe, dog biscuits are not only tasty rewards or staple tools for dog training but also pack a lot of nutritional benefits. Some dog biscuits, for instance, are formulated to help your dog with everything from skin and coat care, to joint pain relief and dental hygiene.
However, like other dog products, there so many dog biscuits out there that it can be daunting to choose the best option for your dog. To help you find the best dog biscuits on the market, we took a look at the best user reviews, best-seller lists, and editorial mentions to come up with the best options. So, if you are looking for the best dog biscuits, your search should end with our list. Without further ado, here are the top 10 biscuits to buy for your pooch:
Best Dog Biscuits
If you are looking for occasional, special biscuit treat for your dog, the first option that we can confidently recommend for you is the Blue Buffalo Wilderness Trail Treats. Made with some of the finest ingredients that you will find the dog treat market, these grain-free crunchy biscuits will not only satisfy your pooch but also help clean his teeth. They are made with real turkey and are packed with Omega 3 & 6 fatty acids to help you keep your dog sharp and healthy.
Buddy Biscuits feature only all-natural ingredients without the addition of artificial flavors, fillers, sugar, salt, yeast, corn, soy, or additives. All your dog gets is the natural and delicious chicken flavor. Whether you are going to stuff them in a Kong or an automatic treat dispenser, these low-calorie biscuits are sized just right. They are also based in the US, making them safe for your dog.
The Old Mother Hubbard Classic Crunchy biscuits are carefully crafted with all-natural ingredients to ensure that your dog enjoys a healthy treat. It features chicken, cheddar and Char Tar flavors, which your pooch will surely love to eat and chew. Because the Old Mother Hubbard cares about your dog's health, no artificial preservatives have been added to this dog biscuit. What's more, the company has been baking wholesome and tasty dog recipes for the past 9 decades, so you can be sure that their biscuits are not only tasty but also safe for your pooch.
Contrary to what most believe, Milk-Bone treats are not only made of milk. They also feature quality meat and bone meal, wheat bran and beef fat to give them a healthy protein profile. The treats also pack a plethora of vitamins and minerals to promote a healthy metabolism and optimum functioning of body organs in your pooch. The treats also have a unique, crunchy texture that can go a long way in removing plaque and tartar buildup as your furry friend chews them. You can comfortably give your dog 1-3 milk-bone biscuits a day as part of his regular diet without being worried about health repercussions.
Pet 'n Shape wants to be known not only for producing yummy and savory biscuits but also for the quality of their treats. All their treats are U-S lab-tested to ensure maximum safety and are professionally roasted to lock in natural flavors. Whether you are getting these biscuits for a puppy or an adult dog, you don't have to worry about size because these natural chicken breast biscuits come in perfect snack-sizes. Unlike other biscuits that are packed in boxes, Pet 'n Shape biscuits are carefully packaged in a high-quality canister with a resealable cap to prevent any aroma from escaping. The packaging also makes it hard for other pets to break in when they are foraging for midnight snacks. If your dog.
Looking for some super-crunchy and healthy biscuits for your dog? Give Canidae Pure Heaven Biscuits a try. Made of all-natural ingredients, with Salmon and Sweet Potato for that amazing taste, these biscuits are perfect for both training and occasional treats for dogs. They have chewy texture hence suitable for both puppy and adult dogs. Most importantly, they are grain-free, making them perfect biscuits for even dogs with sensitive stomachs.
Made with human-grade raw materials, Pet Center Inc.'s dog biscuits are perfect for young, adult, and senior dogs. Some of the main ingredients used in this biscuit include chicken breast, milk, vegetable oil, wheat flour, carotene, starch, and chlorophyll, all of which make this biscuit healthy for your dog. If you are worried about the safety of biscuits that you get for your dog, Pet Center Inc. has you covered because this particular biscuit is endorsed by the American Canine Association, the biggest veterinary health tracking registry in the United States. The biscuit is also manufactured in Pet Center Inc.'s won facilities, which are FDA and CIQ approved. It is suitable for dogs of all sizes.
If you are looking for dog biscuits that you can give your dog as an everyday treat, Wellness Natural Grain-free treats fit the bill. Made with premium lamb and salmon ingredients, this is the type of biscuit to order for a dog with eye issues. This is because salmon is rich in docosahexaenoic acid and EPA, which are known to have potent antioxidant and anti-inflammation properties. So, besides protecting your pooch from eye conditions, the biscuit might boost his immune system and improve his coat and skin health. Besides, it is only made of natural ingredients, so you don't need to worry about artificial flavors, colors, soy, and corn, etc.
One biscuit that seems to be loved by almost all dogs, including choosy eaters is this pumpkin biscuit from Fruitables. Oven-baked with fresh, organic pumpkin and a slight touch of cinnamon, this biscuit will literally drive your pooch into a drooling frenzy. It is made of a wide range of ingredients including pumpkin seeds, apples, blueberry, cranberry, pecan, and bananas, all of which blend to give an outstanding taste for your dog.
Finally, if your dog is a vegetarian, then Wet Noses All Natural Dog Biscuits is the best product to go for. Packed with plenty of minerals, vitamins, and fiber, this is also the type of biscuit to go for if your dog is allergic, is on a raw diet, or has a sensitive stomach. The peanut butter and banana ingredients are all sourced from the US, making them safer for your dog. In other words, you don't have to worry about funny ingredients from China or about toxic additives and preservatives. What's more, being totally digestible, these are the perfect biscuits for training and rewarding good behavior in your pooch.
How to Choose the Best Biscuit for Your Dog
When looking for the best biscuit for your dog, don't just go for an option that looks crunchy and appetizing. You should also take your dog's health into account. The best biscuits for your dog should not just taste good but also offer him optimum health benefits.
The role you want the biscuit to play in your dog's diet and life: If you are going to use the biscuit for obedience or behavioral training, go for more flavorful and smaller sized biscuits. Your dog will only associate the performance of the desired action with something delicious. On the other hand, if you are looking for a treat that can also help you improve a given condition in your dog, then it is advisable to go for biscuits that are formulated with special ingredients. If your pooch has coat and skin issues, for instance, consider buying him biscuits with Omega 3 & 6.
Your dog's size: Your dog's size dictates the size of biscuits that you should get him. If you have a small dog breed, consider going for small-sized biscuits. For a larger breed, go for bigger-sized biscuits to allow him to enjoy the treat.
Texture: Puppies may not benefit much from hard and crunchy biscuits because their teeth and jaws haven't fully developed. Get them soft and chewy biscuits instead. Adult dogs or larger breeds are okay with crunchy biscuits. Similarly, a senior dog with teeth issues will benefit more from soft and chewy biscuits.
Homemade Dog Biscuits
Homemade dog biscuits are super easy to make and are a healthy alternative to commercial dog biscuits. This is because you determine what goes into your recipe. In fact, homemade treats are the way to go if your pooch has diabetes, food allergies, or is trying to shed some few pounds.
You can also tailor the treats to your dog's preferences. You have the liberty to switch things up and try out different tasty variations just to ensure the treats don't get boring.
Besides, with some brands of commercial dog biscuits containing preservatives and fillers, making homemade dog biscuits will ensure your dog does not consume such unhealthy additives.
Making Homemade Dog Biscuits
The best way to approach making safe homemade dog biscuits is following a tested recipe. This, however, does not mean that you shouldn't include other healthy ingredients in your recipe.
But before you add any dog biscuit ingredients, double-check to make sure you are feeding your dog a safe food item. Some of the common food ingredients pet owners use to make dog biscuits include:
Pumpkin: Pumpkin is a healthy alternative for dogs that are allergic to peanut. It is a good source of healthy fiber, has a great taste and is ultra filling, which makes it perfect for dogs that want to lose some pounds.
Peanut butter: Peanut butter is packed with healthy oils and fats, and its good taste is irresistible. However, be sure to use peanut butter that has no xylitol as a sweetener or added sugars.
Flour: Flour is used as a binder in recipes. Always use whole grain flour as an ingredient since it is healthier compared to white flour. Most common household flour like cake flour and bread flour should be avoided when making dog biscuits as they can cause a drop in blood sugar. While wheat flour can be used, most dogs are allergic to wheat, so be sure to find wheat flour alternatives. The most common options you should consider are rye, coconut, and oat flours.
Related: 5 Best Flours for Dog Treat Recipes
Other Ingredients: Some other dog biscuit ingredients you might consider adding to your recipe include banana, low-sodium broth, mashed potato/sweet potato, yogurt, chickpea flour, grated cheddar cheese, and eggs.
Ingredients to Avoid
Knowing the ingredients to avoid when making homemade food for your dog is vital for taking care of your pet. Some ingredients may be healthy to humans but toxic to dogs, so do due diligence to check these ingredients and keep them away from your pup's food.
Here are some of the toxic ingredients that you should avoid when making homemade dog biscuits:
Corn syrup, Added fats like butter, Propylene glycol, Garlic, Xylitol or any other sugar alcohols, Onion, Artificial colors, Chocolate, Vegetable oil, Macadamia nuts, Brewer's rice, Raisins, Excessive salt, Nitrates or nitrites
For more information on choosing the right for your homemade dog treats, check this post.
How to Make Homemade Dog Treats
The process of making homemade dog biscuits is quite easy. However, the steps may vary with different recipes. But once you have the ingredients ready, you can generally follow the steps below.
1. Combine all your ingredients in a large bowl and stir till they mix completely.
2. After it has mixed well, you can use a rolling pin to roll out the dough on a lightly floured surface. Continue rolling until the dough is about 1/2-inch thick.
3. Using a cookie dough cutter, carefully cut out your desired shapes. Place the cut-out pieces on a baking sheet and then put them in an oven. Bake until the edges turn golden brown.
4. Allow your biscuit to cool completely before serving.
Pro Tip: You may extend the baking time for your treats if you want them to be harder. Crispier biscuits are perfect for the young teething puppies, but keep them softer for the older dogs.
Best Practices for Making Healthy Homemade Dog Biscuits
Start small
When starting, ensure you use as few ingredients as possible. The more ingredients you add to your recipe, the more likely that something in the recipe will harm your dog.
So, start with an easy recipe and keep on adding ingredients with time to make sure you are feeding your pup the right food.
2. Use A Different Baking Style
The way you bake your biscuits shouldn't be the same way you bake your dog's treats.
Dog biscuits should be more dehydrated to help clean the pooch's teeth and gums while eating. To achieve this, you should bake the biscuits under low temperatures for a longer time. This will allow enough time to dry the dough.
You can also leave your treats inside the oven for a few minutes after turning it off.
3. Observe The Ten Percent Rule
You don't want your dog to be obese from eating homemade dog biscuits. Therefore, ensure that the homemade treats do not exceed 10% of your pup's daily calorie intake.
How to Store Dog Biscuits
You can store your dog biscuits so that your dog can enjoy them for longer. The main idea is to ensure your treats cool completely before storing. This is because residual warmth can cause condensation, which makes the biscuits damp and eventually go bad.
So, you should cool the biscuits before storing them in an airtight container and place them in a refrigerator. The treats will stay fresh for up to a month. Freezing your biscuits can also keep them edible for up to 6 months.
Healthy Homemade Dog Biscuits Recipes
1. Peanut Butter Dog Biscuits
Ingredients
1/2 cup natural peanut butter
1 cup of water
2 tablespoons vegetable oil (You can use the oil from the natural peanut butter inside the jar)
1 1/2 cups all-purpose flour
1 1/2 cups whole wheat flour
Preparation
Preheat your oven to about 3500F. Meanwhile, prepare your baking sheets.
Combine water, peanut butter and oil in a bowl.
Gradually, add the flours and mix until it forms a smooth dough.

Roll out the dough on a lightly floured surface until it is about 1/4-inch thick.
Using a floured biscuit cutter, cut out the dough and place it in the baking sheets.
Bake in the oven until they are golden brown. This should take about 12 minutes.
Allow the biscuits to cool completely before serving.
2. Hard Dog Biscuit Recipe
Hard dog biscuits do not only have a long shelf life, but they help clean your pup's teeth and gums.
Ingredients
eggshells
oats
buckwheat flour
whole wheat flour
dried parsley
dried rosemary
safflower oil
molasses
honey
Preparation
Preheat the oven to 350 degrees Fahrenheit. Meanwhile, wash your eggshells thoroughly but making sure the membrane is intact. Air dry them and then use a nut mill to grind them.
Combine the oats, whole wheat flour, buckwheat flour, dried rosemary, dried parsley, and crushed eggshells in a large bowl and mix.
Add boiling water, molasses, safflower oil, and honey. Mix well to form a sticky dough.
Knead the dough on a lightly floured flat surface to about 1/4 inch thick.
Place the dough on a baking sheet and bake until it is lightly brown. Take out the dough and cut it into desired shapes.
Place them back and leave overnight to allow the biscuits to harden.
3. Pumpkin Dog Biscuits
This is a hit easy recipe with five ingredients that will leave your dog wanting more.
Ingredients
1 cup pumpkin puree
2 eggs
1/3 cup peanut butter natural with no sweeteners
2 cups whole wheat flour
1/2 tsp pumpkin pie spice or cinnamon
Preparation
Preheat oven to 350F. Prepare a baking sheet with parchment paper.
Combine the pumpkin puree, peanut butter, and eggs in a large bowl and stir.
Add flour and pumpkin pie spice gradually as you stir.
Roll out your dough to one-quarter inch.
Use a biscuit cutter to cut out the dough into desired shapes and place them on the baking sheet.
Bake until for about 30 minutes until the biscuits turn golden brown.
Allow it to cool completely, then serve.
Bottom-line
Whether you opt to buy one of the biscuits on our best dog biscuits list or you decide to prepare for him a delicious biscuit using one of the mentioned homemade dog biscuit recipes, always remember that your dog deserves nothing but the best. Show him some love by choosing the best treat brand or using safe and healthy ingredients in your treat recipe. And don't forget to give him some praise as he enjoys his treat!
Last Updated on June 20, 2021 by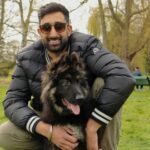 Sable McNeil is a canine chef, professional pet blogger, and proud owner of two male dogs. I have been an animal lover all my life, with dogs holding a special place in my heart. Initially, I created this blog to share recipes, tips, and any relevant information on healthy homemade dog treats. But because of my unrelenting passion to make a difference in the world of dogs, I have expanded the blog's scope to include the best information and recommendations about everything dog lovers need to know about their canine friends' health and wellbeing. My mission now is to find the most helpful content on anything related to dogs and share it with fellow hardworking hound lovers. While everything I share is in line with the latest evidence-based veterinarian health guidelines, nothing should be construed as veterinary advice. Please contact your vet in all matters regarding your Fido's health.